How I Increased My Blog Traffic by 20% in 15 days with SEMrush
You may be wondering why we (I) started writing stuff related to SEO tools when this site is mainly for technical posts. I recently came to know that the hard work we (I) put in writing articles get unnoticed due to lack of importance we gave to search engine optimization.
Search Engine Optimization, in short SEO, the process of getting traffic from organic, natural or editorial search results on search engines.
Let's see why SEO matter for you or us?
Most of the sites, including us, rely on search engines for getting maximum traffic. If you did not keep the search engines happy (with required optimization), then you will soon see fall of visitors count.
We wrote this post to tell you How I Increased My Blog Traffic by 20% in 15 days with SEMrush and keeping in mind that this can help you.
Why SEMrush?
Since I was purely into the technical background, I had to rely on SEO agencies for getting my site optimized for search engines and finding better-performing keywords.
My biggest disappointment with them was that there is no transparency in their action and the report they share with me. I had no option to verify ranking improvement the agency claim at the end of the month. Lastly, I paid them what they asked.
In that situation, SEMrush helped me a lot and provided me all optimization suggestion that I can do on my site for search engines to bring more and more traffic on my own. Moreover, I was able to see its results in just 15 days.
Try SEMRush Today – Exclusive Free Trial
Want a proof for my claim. Screenshot of user sessions.
1 Month:
Increase in traffic – 16.88%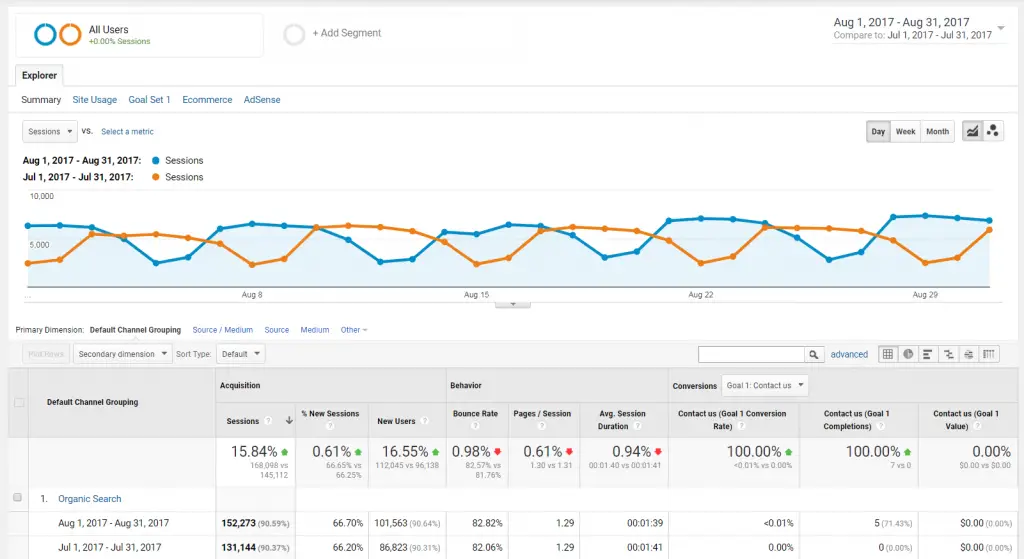 15 days:
Increase in traffic – 21.87%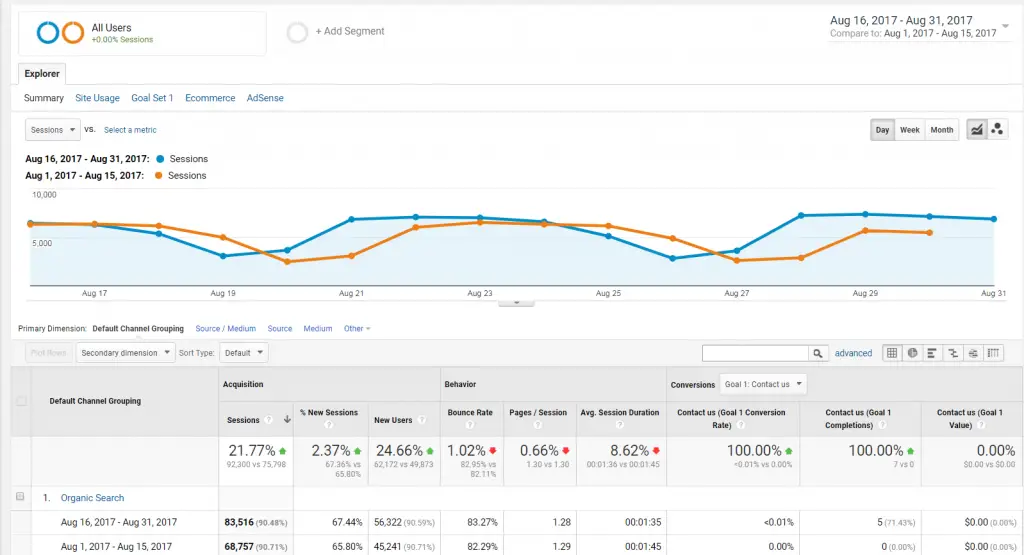 How SEMrush helped me to increase website traffic?
SEMrush – all in one digital marketing tool designed for analyzing competitive data. It has many functionalities, but, the Site (SEO) Audit and Keyword Analysis are the primary reason for the improvement of my website traffic.
Read SEMrush Review to understand all of its functionalities.
READ: SEMrush Review 2017 – Rank ahead of your competitors : Exclusive SEMrush Trial
If you follow below steps, then you could also increase the traffic to your website within a short time.
What is SEO audit?
SEO Audit is a method of assessing website performance in Google and Bing search results. It includes broken links, duplicate content, duplicate meta descriptions, robots.txt issues, incorrect sitemap and other factors that are preventing your website from getting more traffic from Googe and Bing.
You can focus on SEO audit over analyzing best-performing keywords because time spending on altering existing content is less than creating a new one.
If you clear all of your site issues, you will see the improvement in website traffic within a week or two.
Don't worry, SEMrush can help you to get whole website audit report in few clicks.
Try SEMrush Free Today And Get SEO report
How to do SEO Audit with SEMrush?
Site Audit is one the tool in SEMrush which helps us to conduct website audit (SEO Audit) for issues. It crawls your website to detect SEO issues and provides you report for taking action on those problems.
With SEMrush, you can do more than 60 types of checks for SEO issues including content level (Ex. Duplicate content, broken links, Sitemap issue, etc.) and technical problems (ex. HTTPS implementation, AMP related issues, etc.).
My case:
I worked on below issues and brought down issues count to low. Still, there are left which needs to be cleared out.
My site got a vast improvement in traffic even before clearing all issues.
Broken Internal and External Links
Duplicate meta descriptions and Pages don't have meta descriptions
Slow load speed
Pages have a low word count
Too much text within the title tags
Let us see in details.
Fix Broken

Internal or External links
Fixing the broken links was the first and foremost task for me to clear out all broken link on all post and pages of my webs as it affects user experience as well as search engines.
When the search engine crawlers found a broken link, they stop crawling that page and move to next page, meaning that your page won't be indexed in search engines and thus, affecting your page rank and website from getting more traffic from search engines.
Also, broken links take away your visitors as it is a frustrating experience for them when their visit ends with 404 error page.
So, fix all your broken links reported by SEMrush to make your users and search engines happy when they visit.
Fix Duplicate meta descriptions and Pages don't have meta descriptions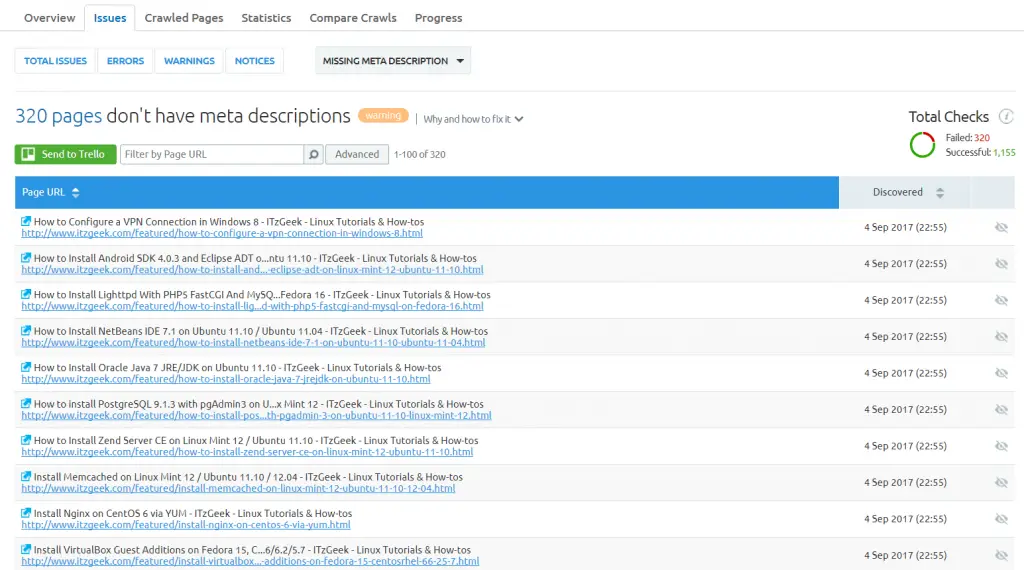 The Meta description is 160 characters long snippet used to summarize a page/post content. These snippets are shown in search engines results just below the web URL.
These snippets in search results will help users to know about the page they visit. Meta description won't help your website rank on top, but it will attract user click-through from search engines, will result in more and more traffic to your website.
Also, make sure meta description on your website is unique for each page.
Fix Slow load speed
Page load speed is one of the most important ranking factors. The site with fast-loading has a greater chance of being at the top of Google search results.
Also, fast loading of a web page will increase the user conversion rates, and thus increasing more user sessions.
Use SEMrush to find the slow loading page and take a necessary action to clear this issue.
Tips: Use popular hosting providers like Bluehost, Siteground and WPX Hosting, reduce your images size, place script at the bottom of your web page, remove unwanted plugins, etc.
Fix pages have a low word count
Search engines determine the quality of web pages based on the amount of text. A recent study says the higher word count pages are placed top in search results and, thus increasing more organic traffic.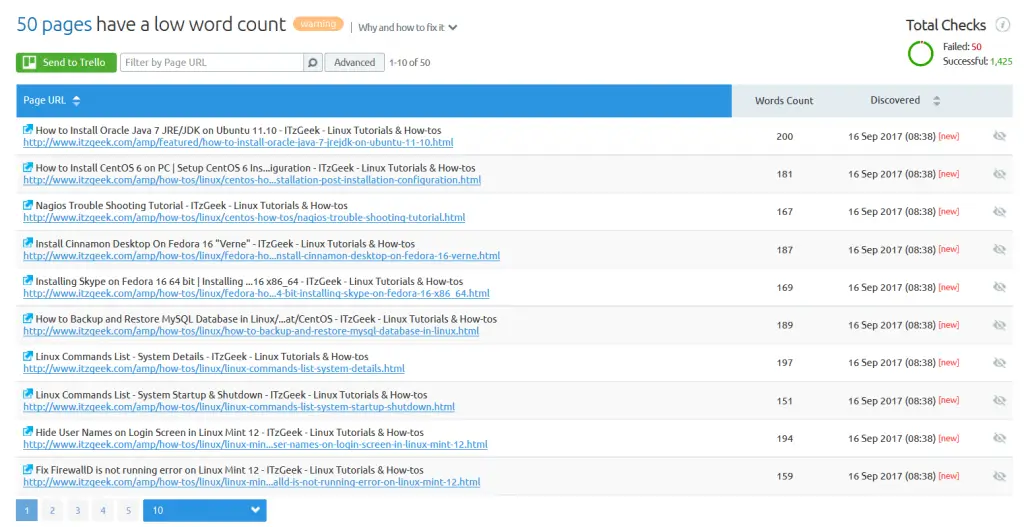 Tips: Write a post with atleast 200 words long, but creating a post with 1200+ words can improve ranking as well as social conversations.
Make sure to limit page title fits in 70 characters including space. Anything beyond that limit, Google will truncate the title in search results.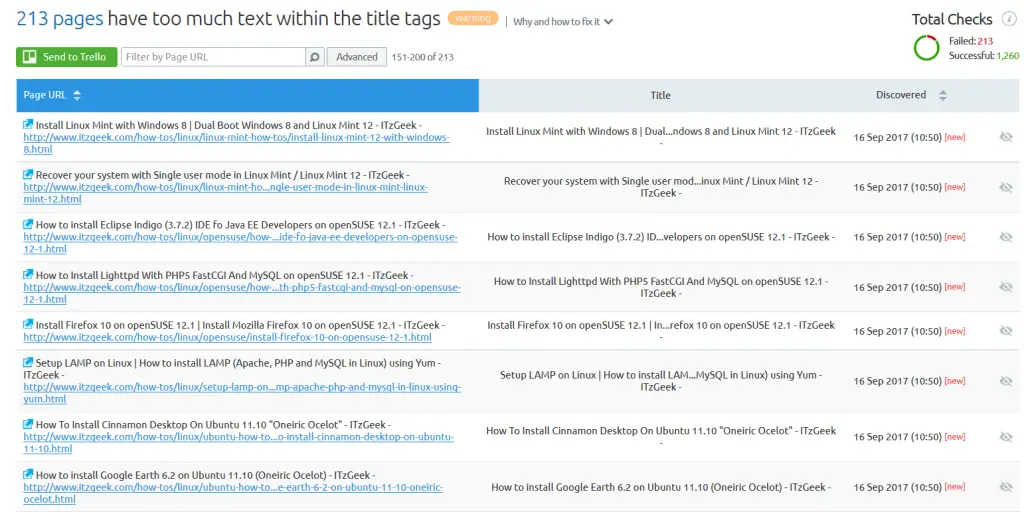 Looks promising, why not try SEMrush today.
Signup Now for SEMrush Exclusive Trial
Until now we focused on existing contents. Next, we will see how to increase the traffic to the website by doing keyword analysis for any niche content (new content).
What is Keyword Analysis?
Keyword analysis is the one of most important activity for us to find the right keywords that bring most traffic from search engines. You also note, it is not always bringing visitors to your site, but about bringing the right kind of visitors.
How to do Keyword Analysis with SEMrush?
Keyword analysis got better with SEMrush. Find the right keyword that trends in Google search for a particular niche, and create content with that keyword to get more traffic.
Find high performing keywords
Enter any keyword in the below SEMrush search box or SEMrush portal to begin.
You will now get an overview of the keyword you searched.
For example, I searched for "CentOS 7" because I wanted to write topics related to that keyword.
Click the view full report to get the whole list of keywords from which you can choose the keyword for your content.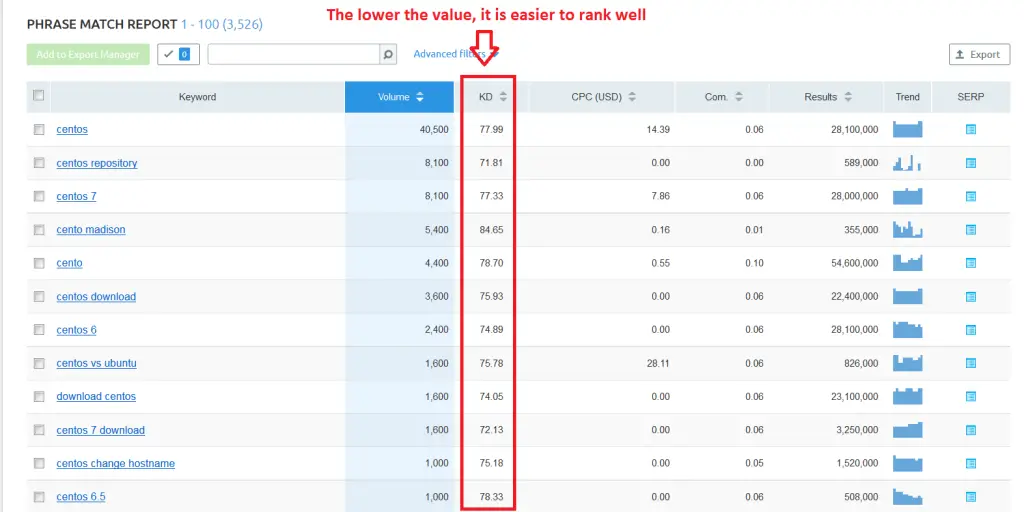 Keyword – Organic keyword that brings traffic to the website from search engines.
Volume – Number of times users have searched for that keyword in a month.
Keyword Difficulty – Tells how much difficult it would be to rank well in organic search results. The lower the value, the easier it is to achieve high rankings for the given keyword.
CPC – Average cost per click for a given keyword.
Com – Tells you advertiser competition for this keyword.
Results – Number of URL's have this keyword.
Choose the low competition keyword to score top in search results. This way we can easily bring a considerable amount of traffic to your website from search engines.
Find Competitors Keywords
Yes, you heard it right. Instead of choosing keywords on your own, you can concentrate on high performing keywords that are sending more traffic to your competitor's website.
By this way, you can snatch some of the traffic from them, thus increase in more organic traffic to your website.
Enter your competitor's domain name in the SEMrush search box or in SEMrush portal to begin.
On the domain overview page, click "View full report" in the section"TOP ORGANIC KEYWORDS".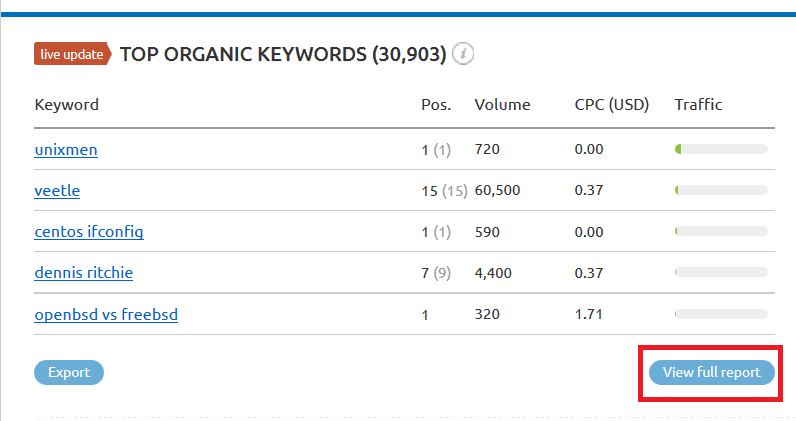 You will get a list of top keywords that are sending tons of search engine traffic to your competitor's website along with their corresponding URL.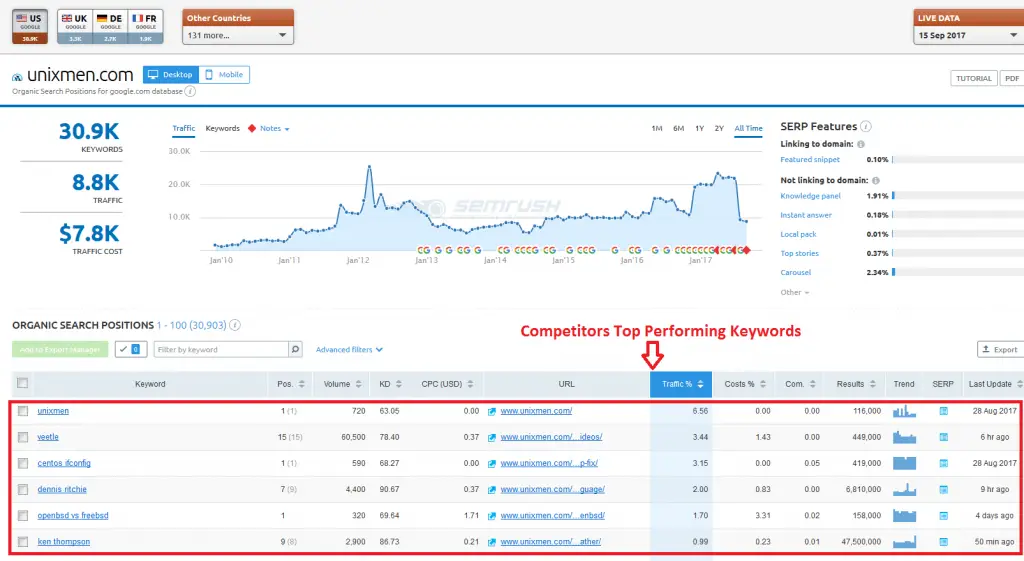 Keywords that tops the chart brings most of the organic search engine traffic to your competitor site. Focus on those keywords and work on it.
Detailed Report: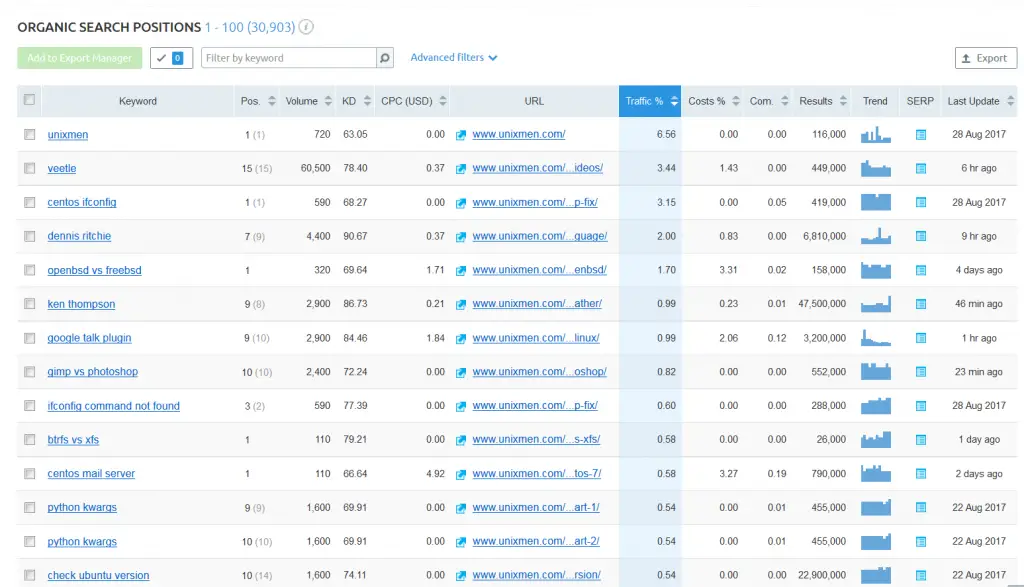 Keyword – Organic keyword that brings traffic to competitor site from search engines.
Position – The position your competitor domain gets in organic search for a given keyword.
Keyword Difficulty – Tells how difficult it would be to rank well in organic search results. Choose the lower competitive keyword to rank top in search engines, easily.
Volume – Number of times users have searched for that keyword in a month.
CPC – Average advertising cost per click for the given keyword.
URL – Competitor's landing page to which the given keyword is driving traffic.
Traffic % – Percentage of estimated traffic to your competitor site brought by that keyword.
Competitive Density – This tells density of advertisers competing for that keyword in Google Adwords. Higher the number, the higher competition, means you need to bid high in Google Adwords for advertisement.
Results – Number of URL's displayed in search result page for the given keyword. Lower is better, here.
Trend – Search trend for the given keyword. Choose the keyword that trends most of the time in the last 12 month.
Select the keyword that brings the most traffic to your competitor site, and write a detailed post with atleast 1000 words containing the chosen keyword.
I hope by now you understood how I increased website traffic by 20% in just 15 days.
Boost Your Site Traffic in Just 15 Days
You might be questioning why I am writing only about SEMrush when there are a lot more alternatives available.The reason is that SEMrush helped me to get what I wanted (more Traffic).
So, don't wait. Go and get SEMrush free for 14 days.
Signup Now And Get SEMrush Free For 14 Days
That's All.