CentOS 7 Netinstall Guide
CentOS installer supports downloading rpm packages from the internet for the OS installation, it supports http, https, ftp and NFS protocol. CentOS has NetInstall iso image which provides support for network installation, size will be around 300MB. Netinstall iso can not be used for normal installation, whenever you perform the installation using netinstall iso, it will download packages from the internet (CentOS repository) depends on the selected installation type.  This post will guide you to perform CentOS installation using official package repository.
Going ahead, download Netinstall image from centOS. Boot your machine with netinstall image, select Install CentOS 7.
Once you selected the language, click on continue to move further. In the following page, we will configure where to get packages, what to install, partitioning scheme and networking (Must for NetInstall).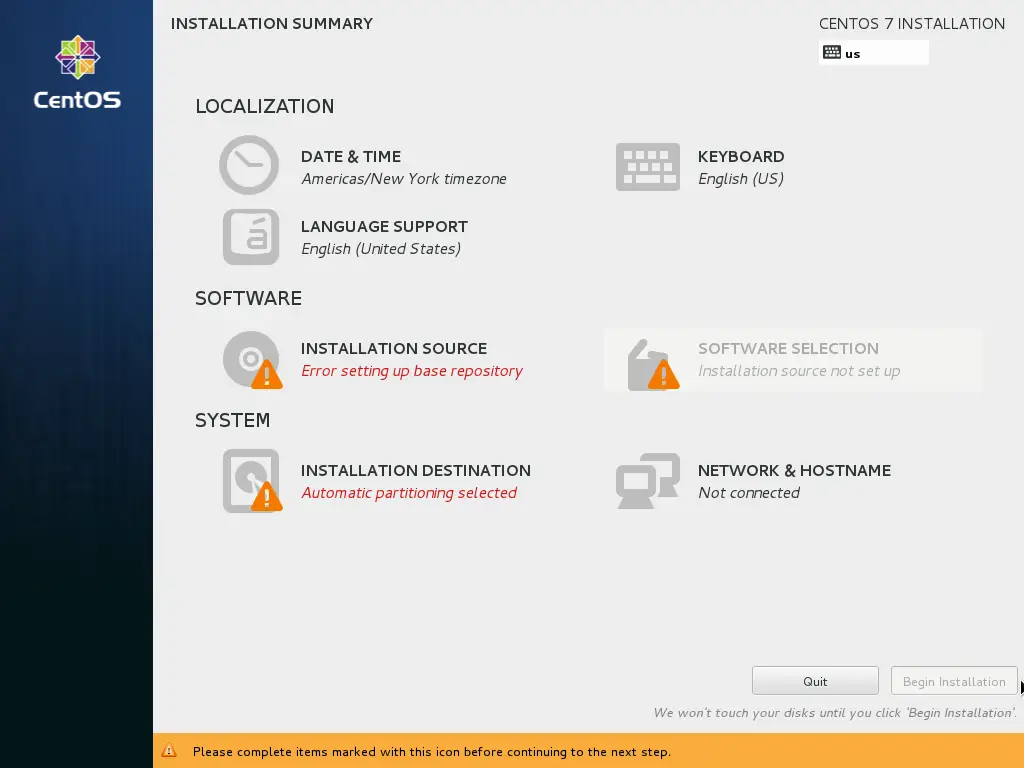 In order to continue further, we must remove warnings on installation summary page. To do so, we will configure one-by-one.
1. NETWORK & HOSTNAME:
Click on NETWORK & HOSTNAME to configure ip address for your system. By default, network connection will be in disconnected mode, enable it by clicking on "OFF"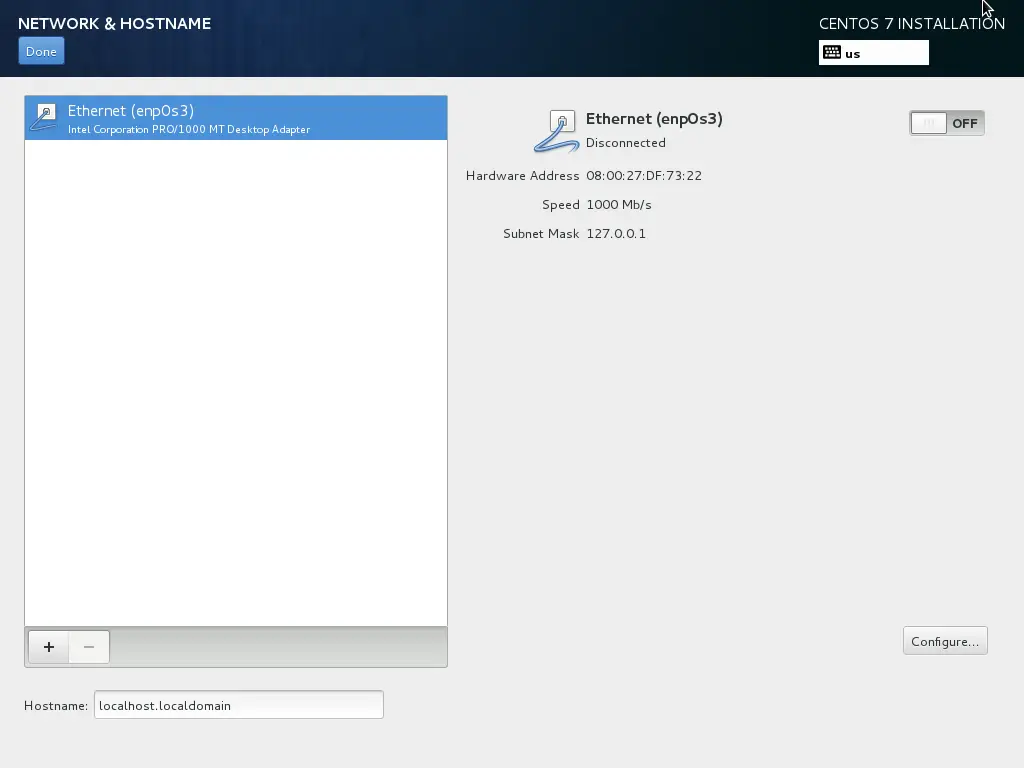 Once it is connected, it will try to get ip address from DHCP. In my case, it took ip automatically from DHCP server.
If you don't have  a DHCP server,  manually configure ip address by going to Configure –>  IPv4 Settings –> Manual Method –> Add. Once done, click on Done at left most.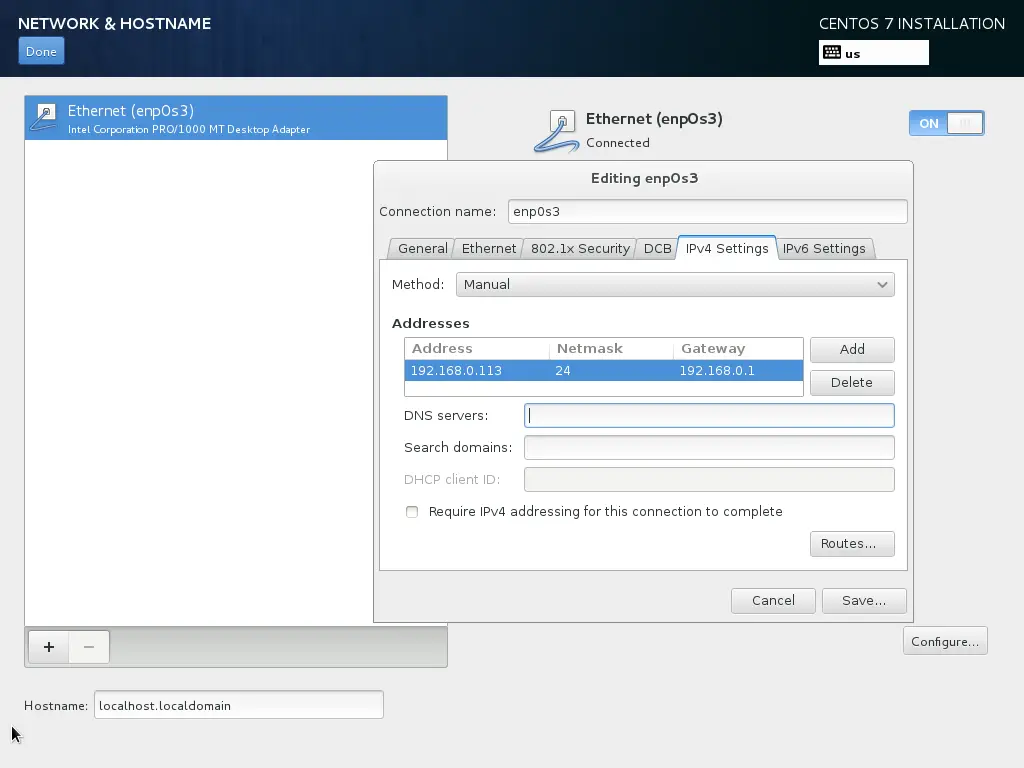 2. INSTALLATION SOURCE:
This is the source for rpm packages, CentOS has a lot of online repositories which provides rpms for the installation. For demo purpose, i have used the following repository.
Main :            http://mirror.centos.org/centos/7/os/x86_64/
Alternate:     http://mirror.sunnyvision.com/centos/7.0.1406/os/x86_64/ (optional)
Select protocol, enter url on the box and then configure proxy if the system acccessing internet through proxy server.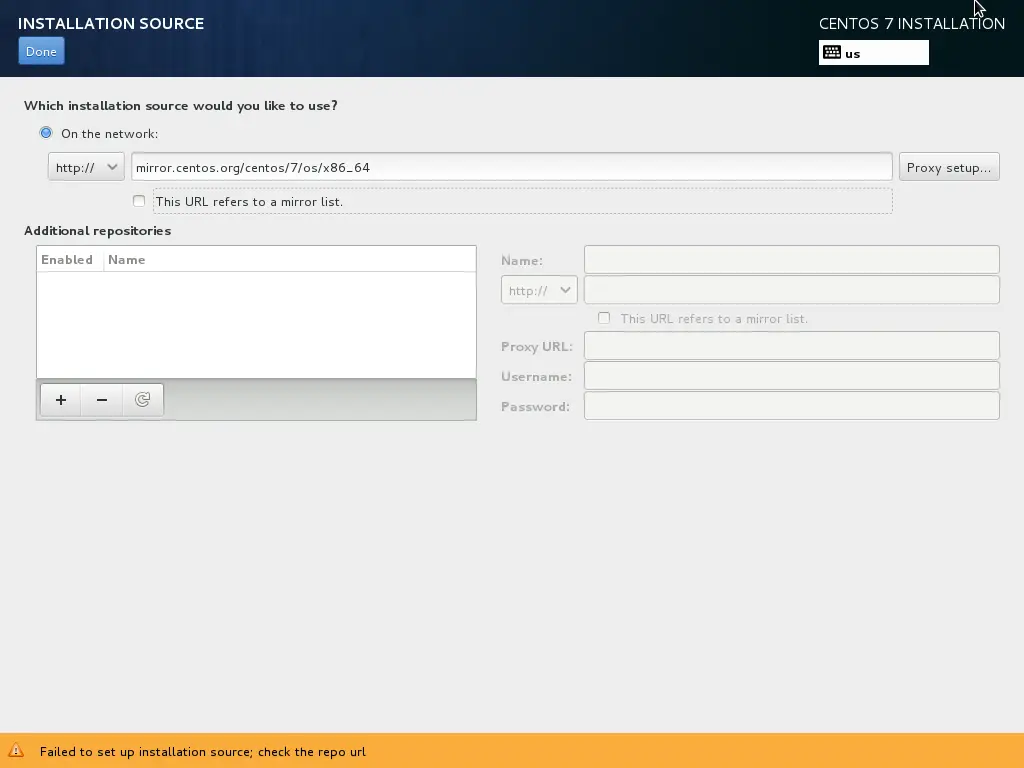 Wait for some, it will download package metadata. Once it is download, you will see the url in the Installation source.
3. SOFTWARE SELECTION:
This is used to select the packages that you want to install, here i chose to install Minimal Server.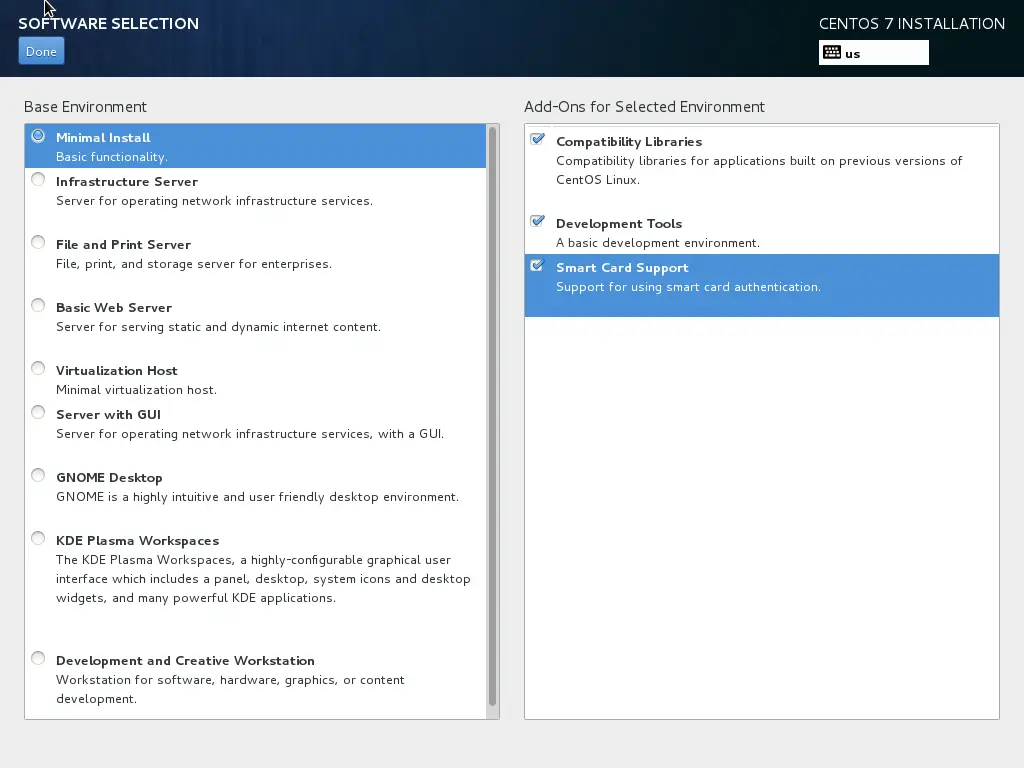 Once you have selected, click on DONE. Wait for some, installer will check the dependencies for the selected packages.
4. INSTALLATION DESTINATION:
Here where you will create a partitions for CentOS installation. If you don't have any data or you want to use full hard disk for the installation, just click on DONE to do automatic partitioning.
You will get the following installation summary without any warning.
It is now good to go ahead and begin the installation. Remaining installation will same as normal installation.
That's All.