How to reset Windows 7/8/10 admin or login password
So, just like any other day, you came to home from office and were ready to complete some unfinished task on your computer but hang on! Suddenly your computer started saying INCORRECT PASSWORD! So you hovered around and looked everywhere to find your password but still getting the same error message. Now, a problematic situation is starting to arise because without entering your computer password, you won't be able to access any files or document contained in your computer.
While protecting your computer with a secure password is highly recommended, but even you won't be able to access it without providing the right password. That's why in this guide, we will demonstrate few amazing ways to reset your Windows 7 administrator password so that you can get back into your computer again.
Solution 1: Reset Windows 10/7/8 Password With the help of Ophcrack
Ophcrack is one of the oldest yet working Windows password recovery program that can recover the password of your computer by running few simulations on your system. It is a text based software, so you must have programming skills to use this tool.
Step 1. Visit Ophcrack official website and download the ISO image file on a different computer.
Step 2. Burn Ophcrack on a CD/DVD and make a bootable disk.
Step 3. Reboot your main locked PC with Ophcrack and wait for it to load on the home screen of your PC.
Step 4. Choose "Ophcrack Graphic mode – automatic" from GUI menu and hit Enter.
Step 5. Ophcrack should be loaded on the screen and it should start recovering the password of your PC. If it is successful to retrieve your password then it should appear on the user interface of the program like the following screenshot.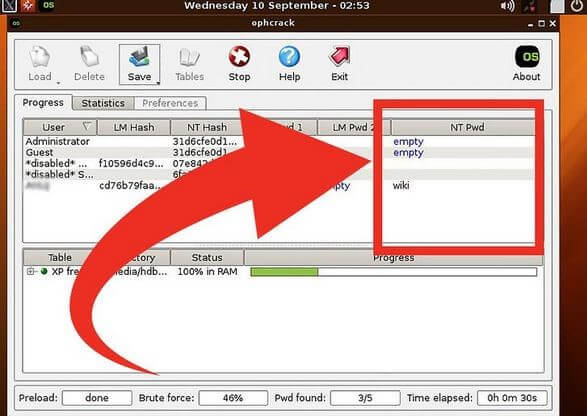 Write down the password on a piece of paper and login to your PC with the password.
Cons –
Ophcrack can only recover passwords less than 8 characters.
Outdated software and doesn't work with 64-Bit computers.
Solution 2: Reset Windows 10 Login Password Using Super Administrator Account
Super Administrator account is an astounding new introduced by Microsoft in Windows 7 and later versions. It is an extraordinary kind of account used especially to reset Windows passwords if forgot. However, there's a trick to activate this account and in the below steps, we will expose how to manipulate this account.
Step 1. Turn your computer on and wait for the login screen to appear.
Step 2. Hit the "Shift" key 5 times when your computer asks to enter the password to activate the Super Administrator Account.
Step 3. A new Administrator account will appear on the screen, click on it once and it should let you enter into your PC without any password.
Step 4. Now, open the Run app by using the combination of press Windows key + R, then type "cmpmgmt.msc" and hit enter to open the Computer Management window.
Step 5. Navigate to "Local Users & Groups" > "Users", to view all the account attached to your PC.
Step 6. Right click on the user profile and select "Set Password".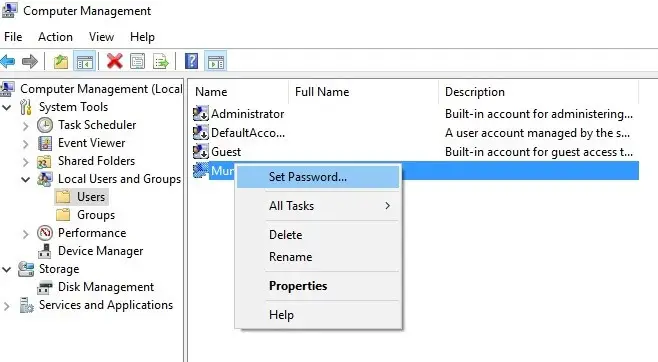 Now, set up the new password for your PC and enjoy!
Cons –
SAC must be enabled before you forgot the password.
SAC must have administrator rights to perform this task.
Solution 3: Reset  Windows login screen with iSeePassword Windows Password Recovery Pro Utility
If none of the solutions worked with you yet then the best way to bypass Windows 7 password is to use a commercial Windows password recovery tool. That's where, iSeePassword – Windows Password Recovery Pro comes into play.
iSeePassword – Windows Password Recovery Pro is used to reset all types of the password in any kind of Windows computer. It doesn't matter if your password length is 10 characters long or 20, whether you use special symbols or characters, this password reset utility can remove any length of the password from your computer. It works perfectly with over 5000+ computer and laptop models including Asus, Dell, HP, Lenovo, Acer, etc. and it can crack the password of any user account types including local, root, domain, administrator and Microsoft accounts.
You can even change the priority of user accounts and set administrator accounts to normal accounts. The basic principle of this tool is to manipulate the registry files that are responsible for encrypting your computer and set the password to null so that you can enter into your PC without any password at all.
Here's a guideline to show how to reset Windows 10 password with the iSeePassword program.
Step 1. Quickly get a working and accessible computer from your friend and install the latest version of the iSeePassword program in it.
Step 2. Plug in a USB storage device or CD/DVD to PC and click on "Burn USB" or "Burn CD/DVD" to make a bootable password reset disk.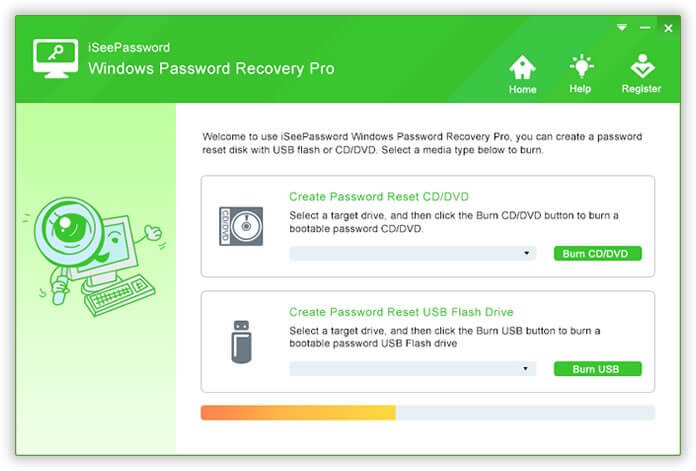 Step 3. After creating the bootable disk, plug it out from your friend's computer and insert it on your own computer to unlock it.
Step 4. Reboot your computer and wait for the password reset tool to appear on the screen.
Step 5. Choose the Windows version such as Windows 7 and select the username from the list appearing on the main interface of the program.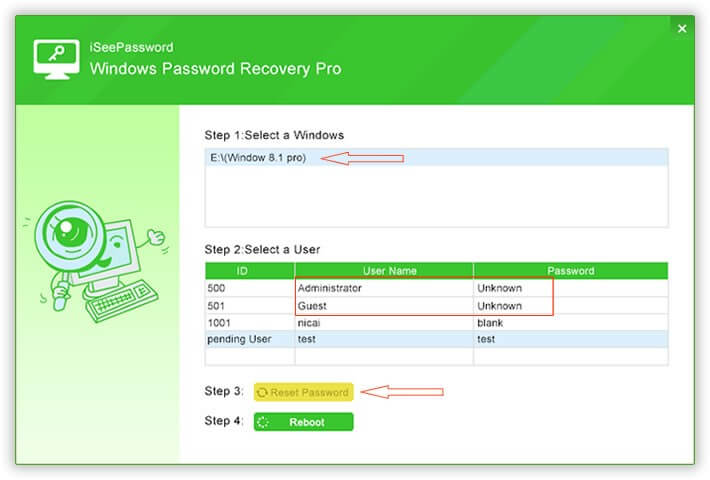 Now press the "Reset Password" button once and wait for the program to erase the password from your computer completely. You can now reboot your PC and access your computer normally again.
For detailed guide:
https://www.iseepassword.com/how-to-crack-my-windows-password.html
Conclusion:
Resetting Windows password can be very challenging depending on your computer expertise skills. But if you have no computer talent then don't worry because iSeePassword – Windows Password Recovery Pro requires no technical skills to operate the program. Please remember, that you must use this tool to reset the password of your own personal computer. Using this tool for any mischief or illegal activities should be a punishable offense and would be considered as a cyber crime.