Best Free PC Alternatives to the Paid Programs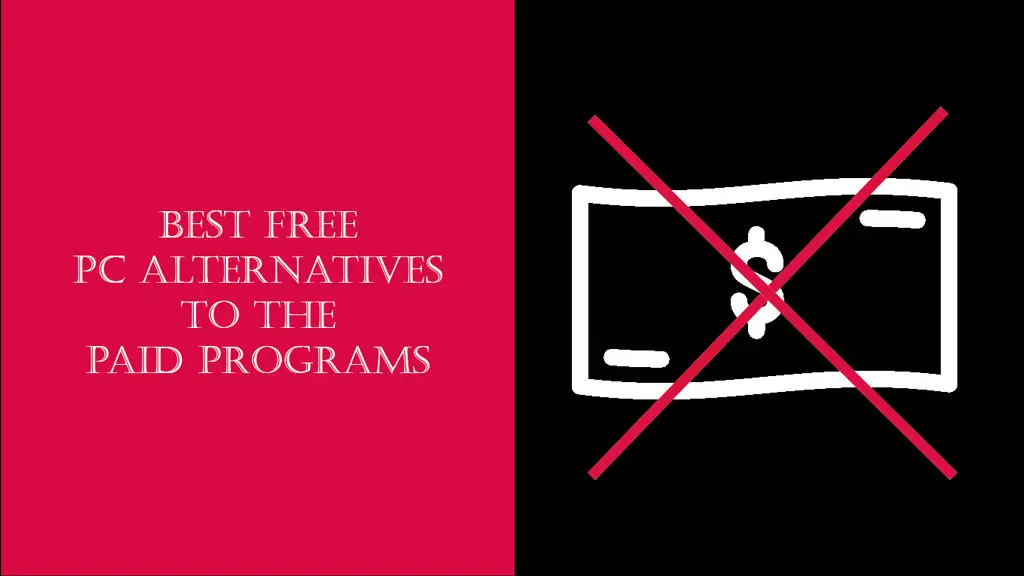 A variety of programs help make using the computer more convenient and productive. But very few people know that you don't have to shell out a fortune for hyped paid software in search of a wide range of functions.
We suggest you pay attention to free alternative PC software which will help you avoid unnecessary expenses.
Office suite
To work with documents on your computer, you can use not only the usual Microsoft Office but also, for example, LibreOffice. The latter program supports the most popular operating systems, including GNU/Linux, Microsoft Windows, and Mac OS X. The main components of LibreOffice are a word processor, a spreadsheet processor, a presentation creator, and a vector editor.
Recording and copying disks
ImgBurn is a freeware CD- and DVD burner, similar to Nero Burning ROM. The program supports all popular image formats and besides knows how to burn Audio CDs, DVD Videos.
Archiver
Archivators are software for compressing files. WinRAR, a paid program, can easily be replaced by the free 7-Zip. The latter has high compression and extraction speed supports setting a password for the archive and works with all popular file formats.
Music Editor
Audacity supports all the necessary sound processing functions, has a set of filters, and works with a large number of formats. This is one of the best free music editors that can replace Adobe Audition and WaveLab.
Text Recognition
The pluses of the free analog of ABBYY FineReader include a good quality of text recognition, unlimited downloads, work with 70 languages, recognition of text containing several languages at once, no registration. Free Online OCR recognizes almost all necessary popular formats (JPEG, PNG, GIF, BMP, etc.). The result can be plain text (TXT), Microsoft Word (DOC), and Adobe Acrobat PDF files.
Dictionary
StarDict is one of the best open-source electronic dictionaries. It not only allows you to translate words but also to sound them out. It also has the function of scanning the highlighted word. You can connect additional dictionaries to the program, thereby expanding its capabilities.
Mail client
To work with email, it is convenient to use the free Thunderbird program. It has a user-friendly and intuitive interface and is considered an excellent analog of The Bat! and other paid email clients. Thunderbird is great for use both at home and at work.
Firewall
Comodo Firewall is a free personal firewall from Comodo for Microsoft Windows XP, Vista, Windows 7, and Windows 8. The program features proactive protection, protection against Internet attacks, buffer overflow protection, protection against unauthorized access, protection of important system files, ret2libc attack detection, and detection of broken/bad SEH chains.
Vector Editor
Inkscape is a free vector graphics editor similar in functionality to Adobe Illustrator and CorelDraw. The program supports elements such as selection, scaling, filling, airbrush, various standard shapes. Inkscape works with SVG, JPEG, PNG, TIFF, and other popular formats.
Printout
With Scribus, you can make layouts and books for publishers. The program supports features of professional systems: color adjustment, including CMYK format, support for most image formats (TIFF, JPEG, and Adobe Photoshop), support for vector formats, support for TrueType, Type 1, and OpenType fonts. Scribus's paid counterparts are QuarkXPress and Adobe InDesign.
3D Editor
3D editors can be used to create models, animations, and even entire movies. Blender is one of the most feature-rich free 3D editors that is as good as the popular 3ds Max. Blender's list of features includes lighting, structuring, materials, animation, shaders, built-in Python, and morphing.
Project Management
GanttProject is a free program designed for project management and the formation of information bases, an analog of paid Microsoft Project. If necessary, the user can easily export the plan into the required format or publish it on the corporate website.
Antivirus program
Avira Free Antivirus is a free antivirus for the home. The frequently updated database includes a scanner and real-time protection. The program loads almost no computer and takes up little RAM space. A good alternative to the paid Kaspersky Antivirus.
Bitmap Editor
Gimp is an excellent free analog of Adobe Photoshop. The application has full functionality for working with images: support for transparency, layers, a large number of formats, various filters for image processing. The only disadvantage of the Gimp is not the most user-friendly interface. But for a free program with such features, this is excusable.