How To Erase All Data from Samsung Phone Before Selling it?
You definitely enjoy all these features thoroughly, but do you ever happen to wonder what if your device falls into the wrong hands? You contact details can be exploited to threaten you, your messages and images can be leaked for mischievous purposes, your music and videos can be an entertaining stuff for the intruder. In short your entire privacy would be at stake. These situations usually arise when you are about to casually hand over your device to someone known or sell your device to any unknown purchaser without erasing your data off your device. But you should wipe off all your data if you are about to hand over your device to someone else for a longer period.
Now many users are still not properly aware of how to delete data off an Android device. This will be demonstrated here in this article in simple 3 ways.
Keep reading the solutions which are the a step-by-step guide to perform the deletion task.
Solution #1: Erase All Data on Samsung Galaxy using Factory Reset
Factory reset is basically required when your device is in a very bad condition and you need to format it to make it completely fresh and rejuvenating. But here we would use it primarily of course to erase the entire device. The guidelines are divided into simpler steps to ease you're follow up:
Step 1. Press on "Menu" and open the "settings" app. You can alternately swipe down the screen from the top and tap on the "gear" icon to open the Settings.
Step 2.  Locate the "Personal" tab, and under the same tap on "Backup & Reset" option. You might require to enter the PIN or Password as well for authentication.
Step 3. Now tap on "Factory Data Reset".
Step 4. A whole bunch of information will be shown on the screen of the device, from where you get the chance to select what exactly you wish to delete from the device. Tap on "Reset Device" to finally accomplish the task.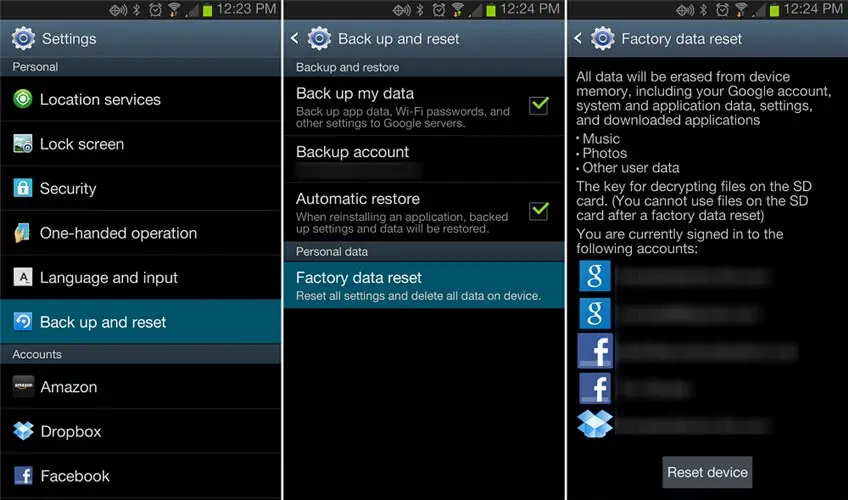 CONS:
The deletion process will not only delete messages, media files but will also eradicate the contact details from your device as well which can give you serious troubles.
All the data that has been deleted can be recovered later on using data recovery tools as well.
Solution #2: Erase Samsung Data via Hard Reset (Recovery Mode)
Recovery Mode is a dedicated bootable partition that allows the user to repair tools and installation procedures. It simultaneously gives the user the right to delete mostly everything from the device and that is what we are going to perform in this method. Go through the steps below to know the method in detail:
Step 1. Turn off your Samsung phone and then Turn it On pressing the "Home + Volume down + Power" buttons altogether. This will allow your device to enter the recovery mode.
Step 2. Select the "Wipe Data/ Factory Reset" option from the enlisted options and press the "Home" button to choose it.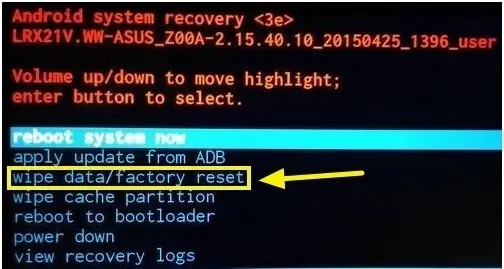 Your phone will be restarted and all your data will be wiped-off the device.
CONS:
The erased data can be retrieved using data recovery tools so it is of no use.
Once your contact details are lost it would be very inconvenient for you to contact any of your friends, and relatives.
Solution #3: Erase All Data on Samsung Phone using SafeWiper for Android
SafeWiper is a magnificent data deletion tool which at its best deletes data from Android devices with 0% recovery possibility. Due to its unparallel features, it has served millions of users across the Internet thereby gaining fame and the popularity in the past few years.
Key Features of SafeWiper:
It works with all Windows Versions namely XP/ Vista/ 7/ 8/ 10.
It is compatible with Mac computers as well.
If queries are there, technical support is available 24×7 at your service.
It removes all types of data- Messages, Videos, Music, Contacts, Applications, etc.
It works with 3 different deletion modes- Erase All Data, Erase Private Data, Erase App Data.
Lifetime upgrade facilities are available.
How to use SafeWiper to erase data from your Samsung Phone?
Step 1. Download the software on an accessible computer and install it. Launch it with admin privileges.
Step 2. Connect your Samsung Device using the USB cable.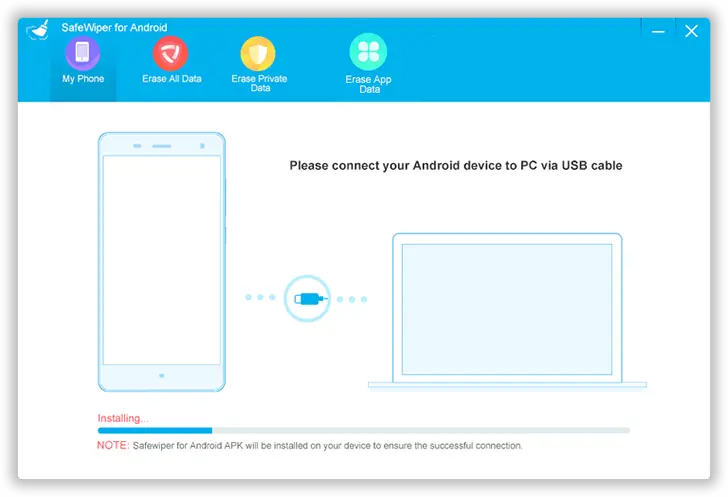 Step 3. Enable the USB Debugging mode. To do that, go to: Settings > Developers Options > USB Debugging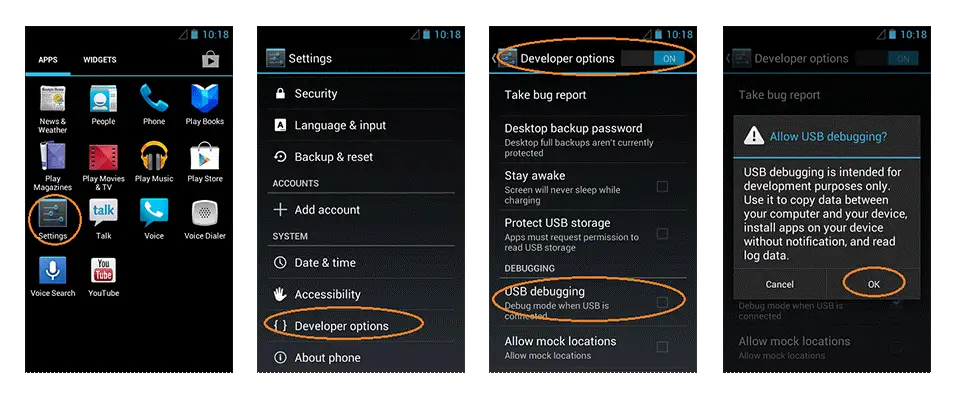 Step 4. Select the "Erase All Data" mode option.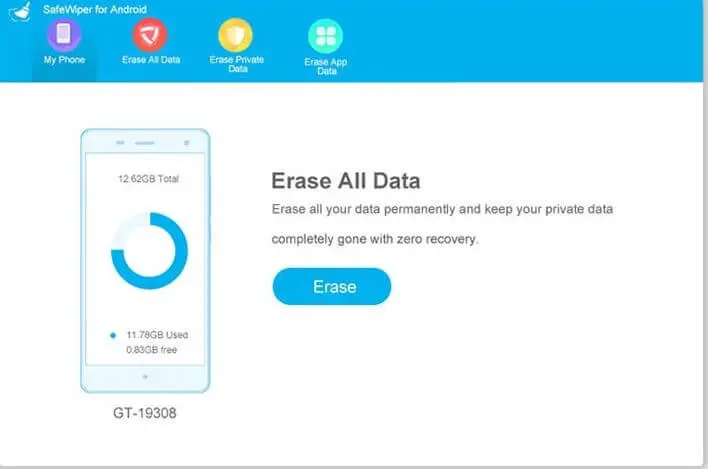 Step 5. From the following page click on "Erase Now" option to delete all data from your Samsung device.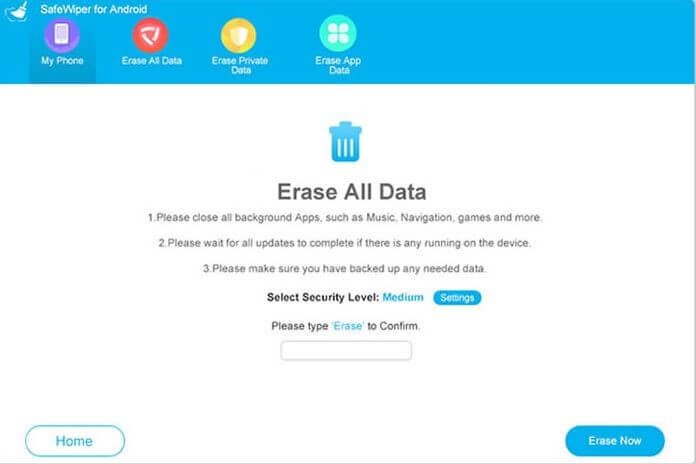 Step 6. Change the security level to "Middle" for better and smoother security measures.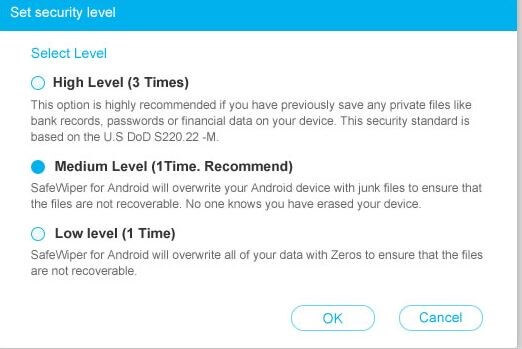 Step 7. The deletion process would take some time before it can erase everything off your device.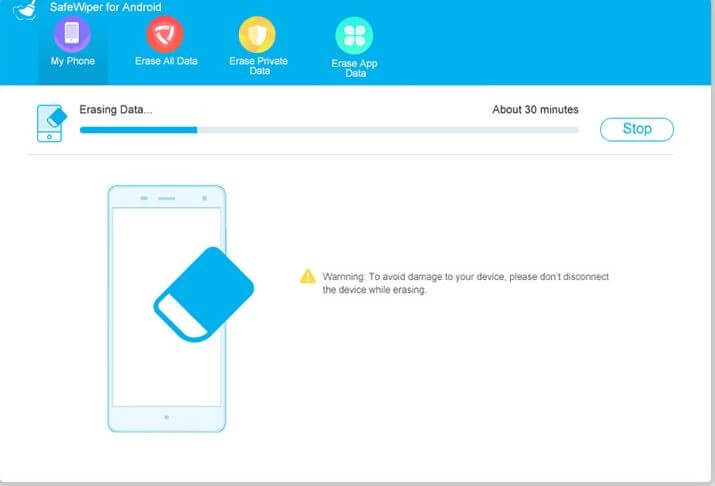 Conclusion:
The above article has clearly given you the exposure that despite choosing any particular method to erase data off your device, it cannot be permanently wiped out off the device. Whereas SafeWiper is the only data-erasing tool which can actually delete data from your device with no chance of restoration even by any powerful data restoring tools available on the Internet Market. Thus if you are really on to selling your Samsung device to someone else, make sure you erase your data using SafeWiper which is the best choice that you can prefer and for more information log on to SafeWiper website.