Download – PhotoNote WPZoom Premium WordPress Theme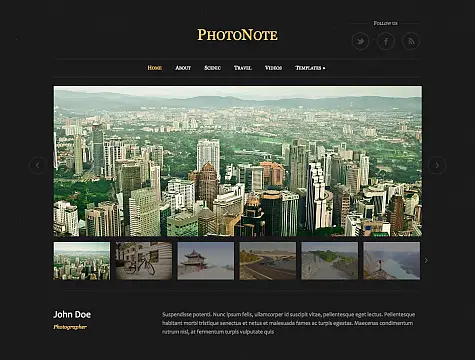 PhotoNote is one of the most advanced Photo & Video theme to date, offering you many unique ways of displaying your photos, videos or blog posts.
Features:
With the advanced WPZOOM Framework, you can easily customize every detail of your theme to best suit your needs.
The layout of this theme automatically adapts to fit on any screen resolution on desktop and mobile devices (iPhone, iPad).
The slideshow from home page and WPZOOM Slideshow Shortcode are touch-enabled for mobile devices.
You don't need anymore a plugin to enable Facebook Comments on your site or blog. It's already integrated in the theme and easy to configure.
Category pages in this theme have a unique structure, and you can even display a slideshow for each post.
From Theme Options you can easily change the colors for various elements from the theme.
[DKB url="#" text="Price = $69″ title="Price = $69″ type="normal" style="normal" color="grey" textcolor="#ffffff" height="30″ width="150″ opennewwindow="no" nofollow="yes" custom="yes"]
| | | |
| --- | --- | --- |
|  [DKB url="http://demo.wpzoom.com/?theme=photonote" text="Live Demo" title="Live Demo" type="normal" style="normal" color="blue" textcolor="#ffffff" height="30″ width="150″ opennewwindow="yes" nofollow="yes" custom="yes"] |  [DKB url="http://www.wpzoom.com/themes/photonote/" text="More Info" title="More Info" type="normal" style="normal" color="red" textcolor="#ffffff" height="30″ width="150″ opennewwindow="yes" nofollow="yes" custom="yes"] |  [DKB url="https://www.itzgeek.com/goto/wpzoom/" text="Download Now" title="Download Theme" type="normal" style="normal" color="green" textcolor="#ffffff" height="30″ width="150″ opennewwindow="yes" nofollow="yes" custom="yes"] |