Charles Dickens 200th Birthday – Google Doodle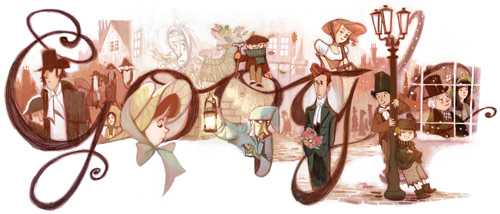 Today Google celebrated 200th birthday of  Mr.Charles Dickens by way of its Google doodle. Charles John Huffam Dickens (February 1812 – 9 June 1870) was an English novelist, generally considered the greatest of the Victorian period. Dickens enjoyed a wider popularity and fame than had any previous author during his lifetime, and he remains popular, having been responsible for some of English literature's most iconic novels and characters.[1]
Many of his writings were originally published serially, in monthly instalments, a format of publication which Dickens himself helped popularise. Unlike other authors who completed novels before serialisation, Dickens often created the episodes as they were being serialized. The practice lent his stories a particular rhythm, punctuated by cliffhangers to keep the public looking forward to the next installment.The continuing popularity of his novels and short stories is such that they have never gone out of print.
Dickens's work has been highly praised for its realism, comedy, mastery of prose, unique personalities and concern for social reform by writers such as Leo Tolstoy, George Orwell and G. K. Chesterton; though others, such as Henry James and Virginia Woolf, have criticised it for sentimentality and implausibility.
The first Google Doodle was created by Larry Page and Sergey BrinGoogle in the year 1998 to mark the celebrations of the Burning Man Festival. Google currently has more than  1000 Doodles.Google recently announced the revamp of its Doodle site  (www.google.com/doodles) which houses all Google doodles since the very first back in 1998.