Google Celebrates Gioachino Rossini's 220th Birthday with Leap Year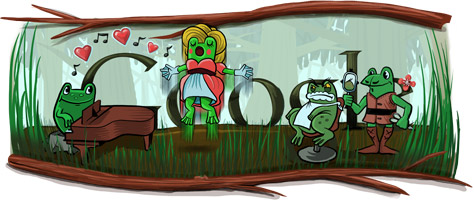 Gioachino Antonio Rossini (29 February 1792 – 13 November 1868) was an Italian composer who wrote 39 operas as well as sacred music, chamber music, songs, and some instrumental and piano pieces. His best-known operas include the Italian comedies Il barbiere di Siviglia (The Barber of Seville) and La Cenerentola and the French-language epics Moïse et Pharaon andGuillaume Tell (William Tell). A tendency for inspired, song-like melodies is evident throughout his scores, which led to the nickname "The Italian Mozart." Until his retirement in 1829, Rossini had been the most popular opera composer in history
Gioachino Antonio Rossini was born into a family of musicians in Pesaro, a town on the Adriatic coast of Italy which was then part of the Papal States.Though a lazy student, the young Rossini found it easy to learn to sing and play. At the age of 14 he entered Bologna's Philharmonic School (now the G.B. Martini State Conservatory of Music) and composed his first opera seria—Demetrio e Polibio (1806; staged in 1812)—for the Mombelli, a family of singers. At 15 he had learned the violin, horn, and harpsichord and had often sung in public, even in the theatre, to earn some money.
When his voice broke and he was unable to continue singing, Rossini became an accompanist and then a conductor. He had already realized the importance of the German school of composition, perceiving the new elements by which Joseph Haydn and Wolfgang Amadeus Mozart had enriched music. These influences can be found in the early cantata he wrote for the Philharmonic School, performed there in 1808. During the next 20 years (from 1808) this genial lazybones was to compose more than 40 operas.
During his Paris years, between 1824 and 1829, Rossini created the comic opera Le Comte Ory and Guillaume Tell (William Tell). The production of the latter in 1829 brought his career as a writer of opera to a close. He was thirty-eight years old and had already composed thirty-eight operas. Guillaume Tell was a political epic adapted from Schiller's play (1804) about the 13th-century Swiss patriot who rallied his country against the Austrians. The libretto was by Étienne Jouy and Hippolyte Bis, but their version was revised by Armand Marrast.[6] The music is remarkable for its freedom from the conventions discovered and utilized by Rossini in his earlier works, and marks a transitional stage in the history of opera, the overture serving as a model for romantic overtures throughout the 19th century. Though an excellent opera, it is rarely heard uncut today, as the original score runs more than four hours in performance. The overture is one of the most famous and frequently recorded works in the classical repertoire.
His first wife died in 1845, and on 16 August 1846, he married Olympe Pélissier, who had sat for Vernet for his picture of Judith and Holofernes. Political disturbances compelled Rossini to leave Bologna in 1848. After living for a time in Florence, he settled in Paris in 1855, where he hosted many artistic and literary figures. Rossini had been a well-known gourmand and an excellent amateur chef his entire life, but he indulged these two passions fully once he retired from composing, and today there are a number of dishes with the appendage "alla Rossini" to their names that were either created by or specifically for him. Probably the most famous of these isTournedos Rossini, still served by many restaurants today.
In the meantime, after years of various physical and mental illnesses, he had slowly returned to music, composing obscure little works intended for private performance. These included his Péchés de vieillesse ("Sins of Old Age"), which are grouped into 14 volumes, mostly for solo piano, occasionally for voice and various chamber ensembles. Often whimsical, these pieces display Rossini's natural ease of composition and gift for melody, showing obvious influences of Beethoven and Chopin, with many flashes of the composer's long buried desire for serious, academic composition. He died at the age of 76 from pneumonia at his country house atPassy on Friday, 13 November 1868. He was buried in Père Lachaise Cemetery in Paris, France. In 1887, his remains were moved to the Basilica di Santa Croce di Firenze, in Florence, at the request of the Italian government.