"The Mayor of Silicon Valley" Robert Noyce's 84 th birthday – Google Doodle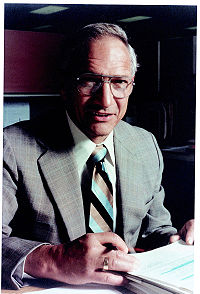 Robert Norton Noyce (December 12, 1927 – June 3, 1990), nicknamed "the Mayor of Silicon Valley", co-founded Fairchild Semiconductor in 1957 and Intel in 1968. He is also credited (along with Jack Kilby) with the invention of the integrated circuit or microchip which fueled the personal computer revolution and gave Silicon Valley its name.Noyce was also a mentor and father-figure to an entire generation of entrepreneurs.
Google celebrated his birthday by the Google Doodle. He was born on December 12, 1927, in Burlington, Iowa.He was the third of four sons of the Rev. Ralph Brewster Noyce.His father was a 1915 graduate of Doane College, a 1920 graduate of Oberlin College, and a 1923 graduate of Chicago Theological Seminary. He was a Congregational clergyman and the associate superintendent of the Iowa Conference of Congregational Churches in the 1930s and 1940s. His mother, Harriet May Norton, a 1921 graduate of Oberlin College, was the daughter of the Rev. Milton J. Norton, a Congregational clergyman, and Louise Hill. She has been described as an intelligent woman with a commanding will.
Awards and honors
In July, 1959, he filed for U.S. Patent 2,981,877 "Semiconductor Device and Lead Structure", a type of integrated circuit. This independent effort was recorded only a few months after the key findings of inventor Jack Kilby. For his co-invention of the integrated circuit and its world-transforming impact, three presidents of the United States honored him.
Noyce was a holder of many honors and awards. President Ronald Reagan awarded him the National Medal of Technology in 1987. Two years later, George H.W. Bush inducted him into the Business Hall of Fame. President George H. W. Bush presented the award, sponsored by the National Academy of Engineering, in a black-tie ceremony held at the State Department. In 1990 also Noyce—along with Jack Kilby, transistor inventor John Bardeen, and some other celebrities, received a "Lifetime Achievement Medal" during the bicentennial celebration of the Patent Act.
Noyce received the Franklin Institute's Stuart Ballantine Medal in 1966.He was awarded the IEEE Medal of Honor in 1978 "for his contributions to the silicon integrated circuit, a cornerstone of modern electronics." In 1979, he was awarded the National Medal of Science. Noyce was elected a Fellow of the American Academy of Arts and Sciences in 1980.The National Academy of Engineering awarded him its 1989 Charles Stark Draper Prize.
Mr. Noyce was inducted into the Junior Achievement U.S. Business Hall of Fame in 1989. The science building at his alma mater, Grinnell College, is named after him..