Install Adobe Reader 9.5.4 on Ubuntu 12.10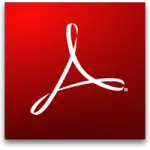 Adobe reader is most widely used application for viewing the portable document format (PDF) developed by Adobe systems, it is available for Windows, Linux, Mac, Android, IOS and available in 29 languages. By default Ubuntu 12.10 has Document Viewer for viewing the pdf documents; but it does not full fill the needs because you might have read the pdf documents on Adobe reader in Windows.
Here is the Step by Step guide for installing Adobe Reader on Ubuntu 12.10, adobe reader neither available on software center nor on partner repository; it has to be downloaded manually from adobe website.
Install Adobe Reader Method 1:
Go to the Download page of Adobe reader, click on Do you have different language or operating system? instead of Download now.
Select the Operating system (Linux), Language (English) and then select Reader 9.5.4 English for Linux (.deb); save it on your computer. Note: Download file will be saved in ~/Downloads directory and install it with root privileges.
cd ~/Downloadssudo dpkg -i AdbeRdr9.5.4-1_i386linux_enu.deb
Install Adobe Reader Method 2:
Download adobe reader with wget command and install it.
wget http://ardownload.adobe.com/pub/adobe/reader/unix/9.x/9.5.4/enu/AdbeRdr9.5.4-1_i386linux_enu.deb
sudo dpkg -i AdbeRdr9.5.4-1_i386linux_enu.deb
That's all!.
Extras:
Verify adobe reader plugin for Mozilla Firefox by visiting url about:plugins.
Search Term:
Install Adobe Reader 9.5.4 on Ubuntu 12.10,Install Adobe Reader 9.5.4 on Ubuntu, Install Adobe Reader 9 on Ubuntu 12.10,Install Adobe Reader 9 on Ubuntu,Install Adobe Reader on Ubuntu 12.10,Install Adobe Reader on Ubuntu,Adobe Reader 9.5.4 on Ubuntu 12.10,Adobe Reader 9 on Ubuntu 12.10,Adobe Reader 9.5.4 on Ubuntu,Adobe Reader on Ubuntu,Install Adobe Reader 9.5.4 on Ubuntu 12.10 64 Bit,Install Adobe Reader 9.5.4 on Ubuntu, Install Adobe Reader 9 on Ubuntu 12.10 64 Bit,Install Adobe Reader 9 on Ubuntu,Install Adobe Reader on Ubuntu 12.10 64 Bit,Install Adobe Reader on Ubuntu,Adobe Reader 9.5.4 on Ubuntu 12.10 64 Bit,Adobe Reader 9 on Ubuntu 12.10 64 Bit,Adobe Reader 9.5.4 on Ubuntu,Adobe Reader on Ubuntu,