Best Free Anti AdBlock Plugins for WordPress – 2017
Adblock is a piece of extension that blocks the ads from displaying in the web pages. This extension came as a savior during the time when there were massive popup and ads whenever an end user opens up a web page or click on any link.
But this extension also disables non-intrusive ads like. Google Adsense which is used by bloggers for their livelihood. If you are a blogger and you might want your visitors to understand the necessity of displaying ads on the blog.
Assuming that you have a WordPress blog or site, below are the best anti-Adblock plugins to tell your visitors to whitelist your domain in the AdBlock extension.
It is up to your visitor to decide whether to whitelist your domain or not. Do not force anyone as it may affect visitors count and unpleasure in visiting your website. Be polite on displaying a message in the anti-AdBlock plugins.
Some of the plugins listed here may not allow users to browse the pages when the Adblock is active.
Detect AdBlock:
It is a simple anti-AdBlock plugin, detects AdBlock and prevents the visitors browsing the content when the visitors has AdBlock in the browser. Detect AdBlock is very easy to use, SEO friendly, customize the blocking message, and the translation is possible from the settings page.
Download Plugin / More InformationLive Preview
deAdblocker:
The plugin detects the use of AdBlock extension and automatically shows banner notification asking users to turn it off. The message in the banner can be easily adjusted, so that you may demystify the side-effects of AdBlock use for the visitors.
This plugin does not decrease website's loading speed a bit. What's more, the code of the plugin is very clean and implies no caveats.
This plugin does not decrease website's loading speed a bit. What's more, the code of the plugin is very clean and implies no caveats.
Download Plugin / More Information
Ad Blocking Advisor:
It adds a simple and elegant notification bar at the top to your website that only displays to those visitors whose browser has an ad blocking software.
Download Plugin / More Information
WP Adblock Dedect:
It detects the AdBlock of the incoming visitors and displays a warning that you specify. You can also redirect the users to a custom page if the AdBlock is installed. This plugin is very simple and faster than the other plugins.
Download Plugin / More Information
Simple Adblock Notice:
Simple Adblock Notice plugin produces a popup to whitelist your website if Adblock extension is enabled. This plugin notifies your website visitors to whitelist your website from adblocker extension.
Con: This plugin works with Google Adsense only.
This plugin has some pro features at the price of $5.
You can set your text for the adblock notice
Change your adblock notice title.
You can show non-closable popup in the corner of the page.
You can opt for "Strict mode" to hide your entire site until your website is whitelisted
Download Plugin / More InformationGet PRO
Monitor AdBlock: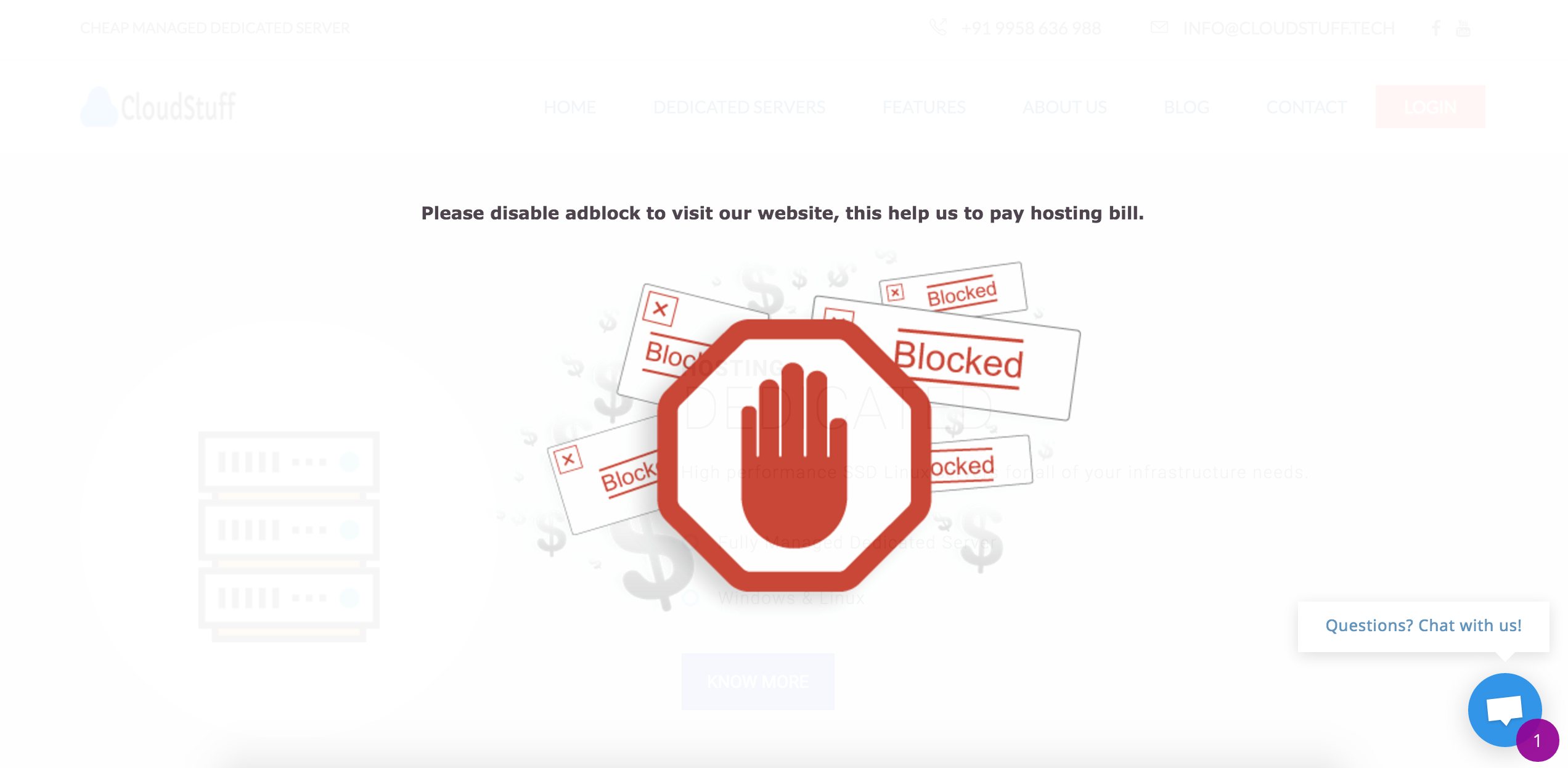 This plugin displays a custom message and image for Adblock visitors and stores insight in Google Analytics which helps us to find how many page views were of Adblock users.
The plugin has not been updated for a long time, but it has been tested personally by me in WordPress 4.6.1. Please use it on own risk
Download Plugin / More Information
Ad Block Defender:
If an incoming visitor is using ad blocking software, this plugin will prompt them with the following message "This site uses advertisements to fund free content, please consider disabling your ad blocking software" every time they access one of your pages/posts:
If the visitor is not using ad blocking software, the plugin will not interfere the user.