Serpstat Review: Powerful Tool for SEO, PPC & Content Marketing
An SEO tool is something site owners, and online marketing specialists literally can't live without. Just imagine doing site audit or competitive analysis manually every single day. Sounds like torture, doesn't it?
Well, these tools save a ton of time by automating everyday processes. That said, they don't have to cost a fortune.
In this post, I'm going to review the less-known platform that has the best quality/price ratio on the market.
About the platform
Serpstat is an all-in-one SEO platform for online marketing specialists and bloggers. It has 6 tools:
Competitive analysis
Keyword research
Backlink analysis
Rank tracking
Site audit
Keyword clustering and text analytics
They also have several impressive achievements:
Now let's have a closer look at each category.
#1 Competitive analysis
1.1 Identify your organic competitors
Your competitors in real life and Web may differ. Your real life competitors are people that sell the same products that you do when Internet competitors are sites that rank for the same keywords.
Competitors report shows a list of domains that rank for a large number of your keywords. You can search by domain or keyword.
Pay attention to all keywords / common keywords ratio. If the site ranks for the same keywords that you do and the difference between these two numbers is small, it means that this site is one of your main competitors.
Sites with a huge difference in these numbers aren't your competitors as they have a too wide range of keywords. See, Amazon may rank for a large number of the same keywords as you do, but it also ranks for a ton of other keywords. We need only sites with a specific focus.
You can add or remove competitors from this report manually, and then export this report to the spreadsheet.
1.2 Find missing keywords and compare URLs
Missing Keywords report shows a list of keywords that your competitors' page is ranking for in the SERP Top 10, while your researched page is not ranking for these keywords in the Top 100.
If any other page of your site ranks for a keyword from this report, you'll see its URL in the 'Other URLs contain' column.
Also, you can compare two or three URLs and estimate the numbers of unique, common, and all keywords.
These tools can help you find gaps in your keyword research strategy, find avenues for improvement, get a lot of keyword ideas, and improve your search visibility.
1.3 Find your competitors' best-performing content
Top pages report shows best-performing pages of your competitor, your own site, or by the keyword. You can sort results by organic keywords, FB/Linkedin/Google+ shares.

Potential Traffic is the number of monthly user visits a page could have received additionally if it had gotten to the first position for all keywords currently ranked for in Top 20 search results.
1.4 Find competitors' best-performing keywords
Check your competitor's positions and find their best-performing keywords. This information can help you find their strong and weak spots and develop an appropriate strategy.
1.5 Identify your PPC competitors and estimate their ads
With this tool, you can find your competitors in PPC and check ads and keywords your competitors use. To get all the ads and keywords of a particular URL, click on 'Show all queries'.
Analysis of competitors ads may help you write better headlines and descriptions for your own ads, optimize display URLs, choose right keywords to bid on.
1.6 Check competitors' backlinks
Exploring your competitors' backlinks, you can find a lot of backlink opportunities for your site as well. Also, you can analyze their link building strategy:
What type of backlinks do they build? (quest posting, links in comments, banners, sidebars, studies, etc.)
Do they build high-quality backlinks or not?
How did their strategy change over time?
What tactics did they abandon?
What tactics do they use for a long time?
If you analyze several competitors, you can find a top of valuable sites to work with and improve your strategy.
#2 Keyword research
2.1 Keyword selection
Keyword Selection brings up all keywords associated with the researched query based on the full-text search.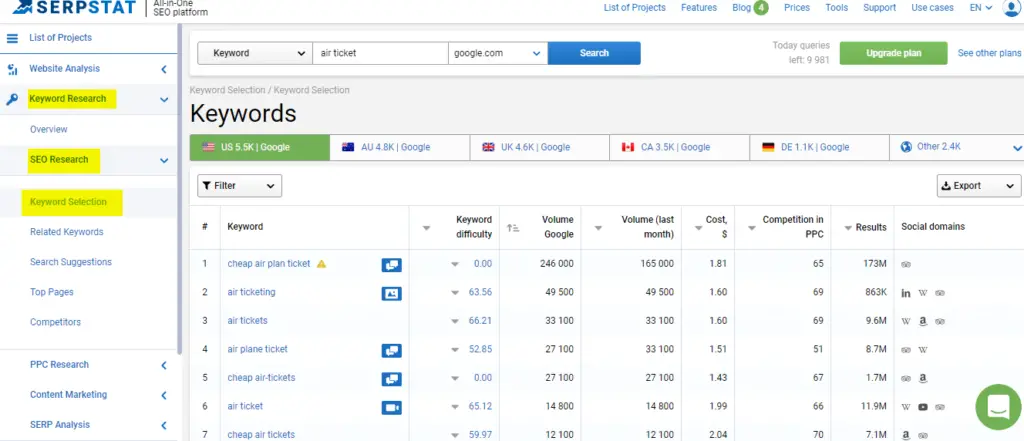 2.2 Keyword Difficulty
This tool also has a keyword difficulty feature, a keyword metric designed to help you figure out what it takes to get to the top spots in SERP for the desired keyword. Using it, you can easily understand if it's worth investing money and time in a certain keyword.
0-20 — Low KD
21- 40 — Medium KD
41-60 — Hard KD
61-100 — Super hard KD
2.3 Search suggestions
Search suggestions are keywords that appear under the search box as you start typing your query. Here is what it looks like: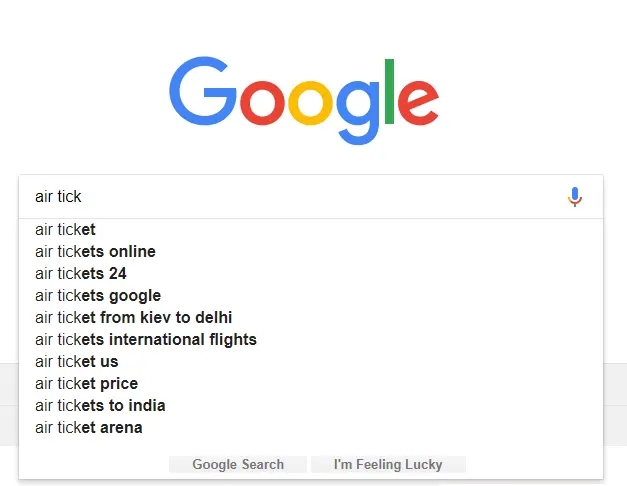 The tool gathers all these suggestions automatically:
2.4 Search questions
Search Questions are interrogative forms of Google search engine's suggestions. Researching the questions asked by your audience and come up with ideas to inspire your content marketing efforts and resolve the searcher's query.
All these long tail queries can help you:
Avoid keyword stuffing as you have a lot of alternatives and related keywords;
Come up with the ideas for your content;
Write in more natural language;
Better understand your customer;
Optimize your pages for a lot of keywords instead of the single one.
2.5 Keyword Clustering and Text analytics
Serpstat has the best keyword clustering tool on the market. Clustering is a mass grouping of uploaded keywords based on their semantic similarity. It's designed for:
Grouping of semantically related keywords
Automatic analysis of a set of keywords
Creating a site's SEO architecture
Optimizing pages for a lot of keywords at the same time
Text analytics analyzes top-10 sites and recommend you what keywords to use in Title, Description, H1, Body text.
#3 Backlink analysis
3.1 Monitor number of your backlinks
Referring Domains report shows all domains that link to your domain/URL, the number of backlinks earned from individual referring domains, their Page Rank and Trust Rank, and Alexa Rank.

You can also monitor how the situation changes over time.
3.2 Analyze your anchors
Also, you can see all anchors in your backlinks. The anchor cloud shows only most common ones:
Since you have to use different anchors and avoid using brand anchor too often, it's useful to check your most common anchors from time to time.
#4 Rank tracking
It's important to stay ahead of the curve by keeping track of position changes in SERPs for keywords your site is ranking for. Rank tracker shows how your site ranks for the tracked keywords in Google Top 20. You can set up daily monitoring.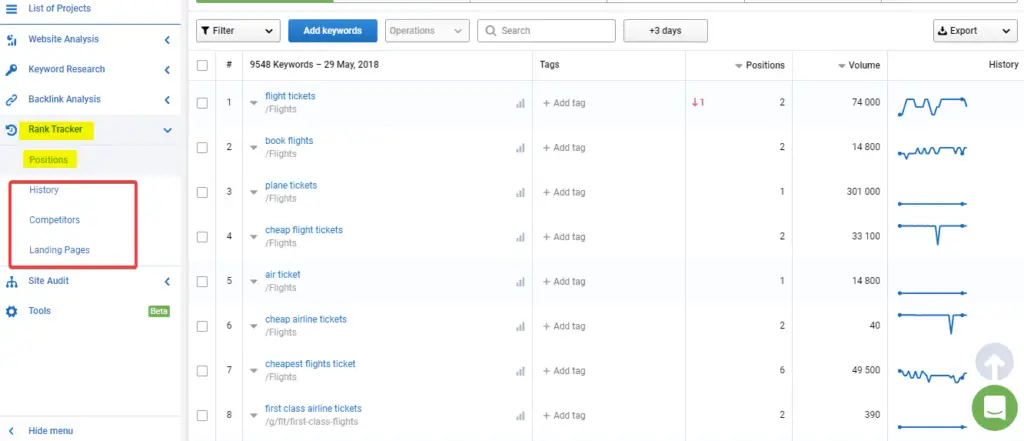 Also, you can monitor your competitors' rankings and see the traffic share by your common keywords. Thus, you'll see how many traffic grabs each competitor and can come up with a proper strategy.
The History tab encompasses your rankings data on tracked keywords throughout the time since you set up the campaign.
#5 Site audit
A site audit is a tool that checks your site performance. The report shows types of errors, links to resources where they've been noticed, and suggests ways to fix them.
Here are types of errors Serpstat finds:
HTTP Status Code
Meta Tags and Headings
Accessibility & Indexation
Links and Redirects
Server Parameters
Loading Speed
So this tool gives you the list of errors your site contain along with their location and tells you how to fix them. It's all you need to improve site performance and identify optimization opportunities to make your site rank higher and work faster.
Pricing
We got used to paying over $100 per month for an SEO tool. Well yes, SEO tools are worth paying this much.  But the pricing of this tool may surprise you:
There is even a free plan where you can perform 30 searches and audit 100 pages in a month.
The paid plans start from $19/month. I find limits of Plan A too small, but it may be enough for bloggers and individual entrepreneurs. As to Plan B, it totally covers my needs. I have:
4 000 queries per day
15 000 results per report
In-depth URL Analysis
Missing Keywords
Related Keywords
Access to API
700 tracked Keywords for Position tracking
Unlimited domains to track in Projects
Competitors' Domains to track in Projects
Backlink analysis: 800 queries per day, 15 000 Results per report
150 000 pages to audit
4 000 for Keyword Clustering and Text Analysis
20 projects to track, analyze and audit
You can read more information about limits here.
Wrapping up
This tool has all features you need to surpass your competitors, create optimized content for your site, build quality link profile, and improve your SEO performance. And it has surprisingly low prices for these type and level of service.
As to weak spots, the tool doesn't provide all databases I need. Also, they could update analytics positions more frequently.
Despite this, I'll definitely add this tool to my the must-have SEO tools I use every day!