How to Install Eclipse IDE on Debian 9 / Ubuntu 16.04 / LinuxMint
Eclipse is a well-known, versatile, Integrated Development Environment, widely used for developing JAVA application all around the world. Eclipse is written in Java and released under Eclipse Public License, an open-source license.
Eclipse is not only used for developing Java applications, but it can also be used to develop applications in various programming languages including COBOL, Ada, C, C++, Perl, PHP, Python, R, Ruby (including Ruby on Rails framework), Clojure, Scala, Groovy, and Scheme.
Development environments include the Eclipse Java development tools (JDT) for Java, Eclipse CDT for C/C++ and Eclipse PDT for PHP, among others.
With the support of plugins available in Eclipse Marketplace, we can extend the functionality of Eclipse.
Requirement
Switch to the root user.
su -
OR
sudo su -
Eclipse requires Java to be available on your machine. So, go and install the Java JDK. You can either install Oracle JDK or OpenJDK.
For this demo, we use OpenJDK 8 here.
apt-get install -y openjdk-8-jdk curl wget
Want to use Oracle JDK, read:
READ: How to install Oracle JAVA 8 on Ubuntu / Linux Mint
Verify the Java version on your machine.
java -version
Output:
openjdk version "1.8.0_141"
OpenJDK Runtime Environment (build 1.8.0_141-8u141-b15-1~deb9u1-b15)
OpenJDK 64-Bit Server VM (build 25.141-b15, mixed mode)
Download Eclipse
Download the latest version eclipse, at the time of writing; the version is 4.7. You can also download the Eclipse package over the terminal using the following command (risk of being changed).

### 32 Bit ###

curl -O http://ftp.jaist.ac.jp/pub/eclipse/technology/epp/downloads/release/oxygen/R/eclipse-java-oxygen-R-linux-gtk.tar.gz



### 64 Bit ###



curl -O http://ftp.jaist.ac.jp/pub/eclipse/technology/epp/downloads/release/oxygen/R/eclipse-java-oxygen-R-linux-gtk-x86_64.tar.gz
Extract Eclipse package to your desired directory (Ex. /usr/).
tar -zxvf eclipse-java-oxygen-R-linux-gtk*.tar.gz -C /usr/
Symlink eclipse executable to /usr/bin path so that users on the machine can able to use Eclipse.
ln -s /usr/eclipse/eclipse /usr/bin/eclipse
Launcher Icon
Sometimes you may want to have Eclipse icon on Gnome or Dash, just like in the Start menu of Windows.
vi /usr/share/applications/eclipse.desktop
Use the following content in the above file.
[Desktop Entry]
Encoding=UTF-8
Name=Eclipse 4.7
Comment=Eclipse Oxygen
Exec=/usr/bin/eclipse
Icon=/usr/eclipse/icon.xpm
Categories=Application;Development;Java;IDE
Version=1.0
Type=Application
Terminal=0
Start Eclipse
From command line
# eclipse
From GUI
Debian 9:  Activities-> search for Eclipse

Ubuntu: Dash -> search for Eclipse
LinuxMint: Menu –> Programming –> Eclipse 4.7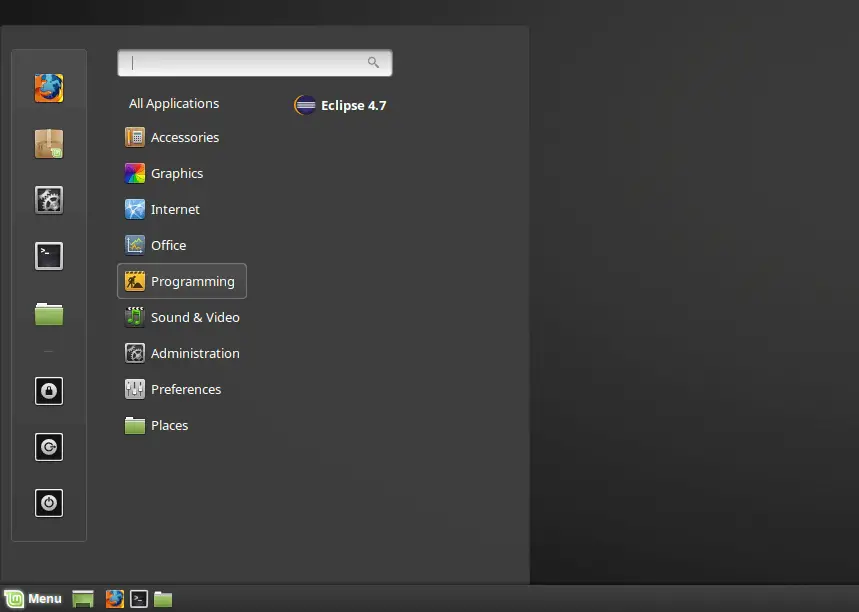 Configure workspace for Eclipse.
Eclipse 4.7 on Debian 9:
Eclipse 4.7 on Ubuntu 16.04:
Eclipse 4.7 on Linux Mint: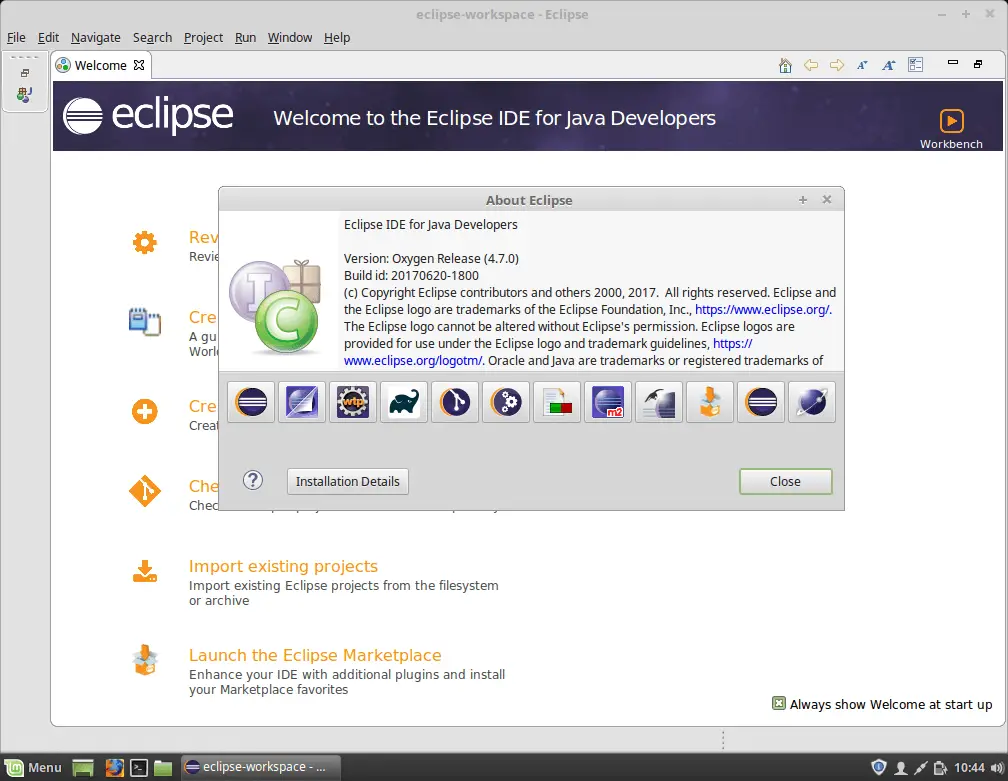 That's All!.