How to run ONLYOFFICE Desktop Editors 5.1 with AppImage
ONLYOFFICE Desktop Editors is an open source suite distributed under GNU AGPL v.3 that offers offline document editors for text documents, spreadsheets, and presentations.
Last week ONLYOFFICE developers have updated its desktop applications to version 5.1.
What's new
New interface with tools reorganized into the following tabs: File, Home, Insert, Layout, References, Collaboration, and Plugins.
Quick access to collaborative features such as Sharing, Review, Comments, Version History, Chat, etc.
Table of Contents with Navigation panel for an easy navigation through headlines.
Export of text documents to the RTF
11 new formulas, new date formats and regional presets to format cells in the spreadsheet.
Special paste for working with presentations, and presentation-level comments.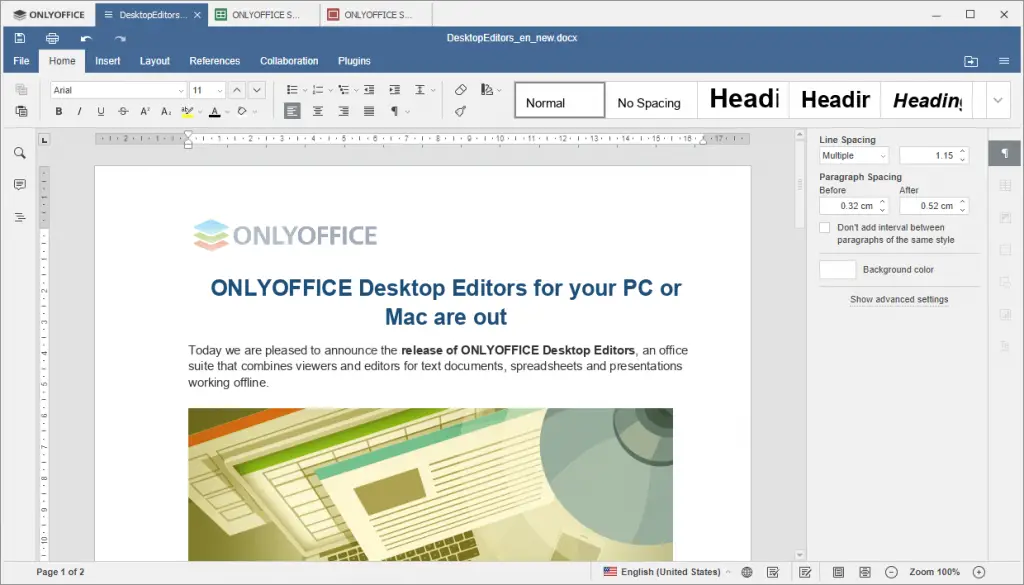 More information is available on the official website.
Install ONLYOFFICE Desktop Editors 5.1
You can install ONLYOFFICE Desktop Editors in different ways,
Download ONLYOFFICE Desktop Editors from the official website,
Install ONLYOFFICE Desktop Editors using Repository,
Use the snap package available on the Snapcraft store.
Or run it with the recently released AppImage.
Run ONLYOFFICE Desktop Editors 5.1 with AppImage
Use these three commands to run the latest version of ONLYOFFICE Desktop Editors:
To download the AppImage from GitHub:
$ wget https://github.com/ONLYOFFICE/appimage-desktopeditors/releases/download/v5.1.29/DesktopEditors-x86_64.AppImage
To make the application executable:
$ chmod a+x DesktopEditors-x86_64.AppImage
To run the application:
$ ./DesktopEditors-x86_64.AppImage
Now you can start the application and edit documents stored on your Linux machine or connect it to the web-based ONLYOFFICE platform.
That's All.