How to Easily Install ONLYOFFICE Desktop Editors 4.8.7 in Ubuntu via snap
ONLYOFFICE Desktop Editors is a desktop version of the ONLYOFFICE web-based office suite distributed under the GNU AGPL v.3 that comprises viewers and editors for text documents, spreadsheets, and presentations.
ONLYOFFICE allows you to work on your documents offline and switch to the online mode if you need to share your document and collaborate on it with your teammates.
What's new in ONLYOFFICE Desktop Editors 4.8.7
Pre-installed plugins
Now ONLYOFFICE Desktop Editors include a set of plugins pre-installed: ClipArt, OCR, Photo Editor, Speech, Symbol Table, Translator, YouTube. So you don't have to add them manually anymore.
Macros
One of the pre-installed plugins allowing users to automate their routine tasks and standardize documents.
New interface languages
Currently, users can install  ONLYOFFICE Desktop Editors choosing one of 8 interface languages. The recently added ones are Czech, Slovak, and Brazilian Portuguese.
The whole changelog is available on the official website.
Install ONLYOFFICE Desktop Editors
ONLYOFFICE Desktop Editors can be installed in different ways,
Download ONLYOFFICE Desktop Editors from the official website,
Install ONLYOFFICE Desktop Editors using Repository,
Recently the ONLYOFFICE developers have published a snap package on the Snapcraft store that allows you to quickly install ONLYOFFICE Desktop Editors on any Linux distribution without efforts.
Prerequisites
A snap contains all the dependencies to run the application. To use it, all you need is snapd, a system to install and manage snaps. Starting from the version 16.04, Ubuntu includes snapd by default.
If you use a previous version, you can install it with these commands:
sudo apt update
sudo apt install snapd
For more information about snapd, please refer to the official documentation.
Install ONLYOFFICE Desktop Editors via snap
Run this command in the terminal to install desktop editors.
snap install onlyoffice-desktopeditors
Run ONLYOFFICE Desktop Editors
Once the installation is over, run the editors from the terminal using this command:
desktopeditors
OR
Go to Dash Home >> search for ONLYOFFICE.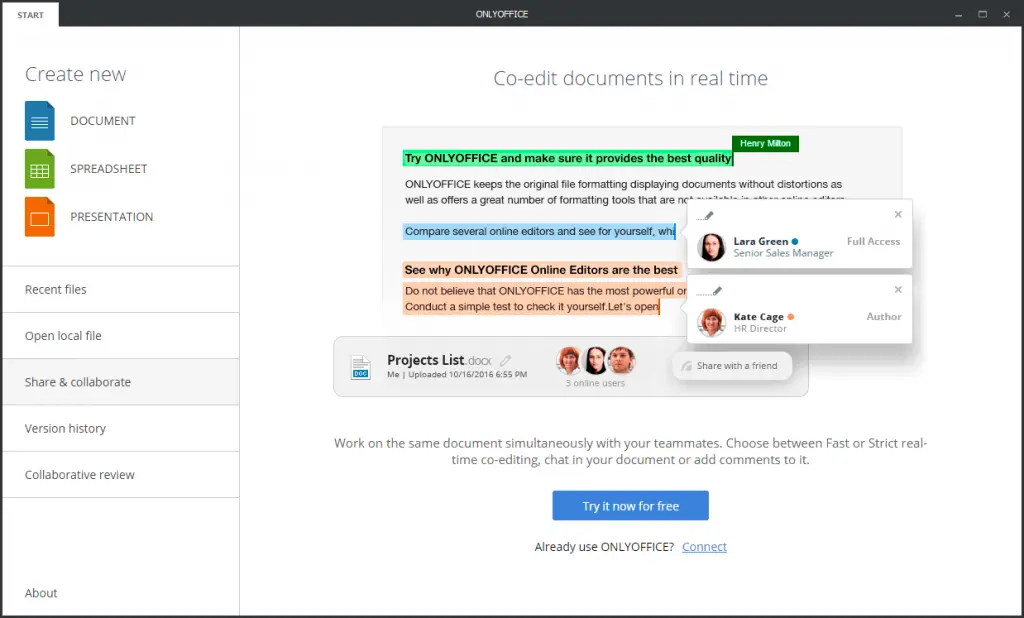 Uninstall ONLYOFFICE Desktop Editors
To remove the snap, use the following command:
snap remove onlyoffice-desktopeditors
That's All.