iMyFone Umate Pro – Keep your privacy under 100% protected on iPhone before selling it
We all would come across a time where you got to delete all those information which consists in your iPhone. An iPhone contains of so much of data including photos, videos, messages, emails, password, browser history, App chat history, recordings and so much more. It is indeed not an easy task to delete all those important information on your iPhone, even if you use factory reset, as the deleted data is not fully removed from your system. People can recover all your data by some data recovery software like iMyFone D-Back iPhone data recovery software.
Selling your iPhone off, donating it, changing your iPhone are some reasons of why you would be in need of using this special software called iMyFone Umate Pro iPhone data eraser. This software is a quick and easy solution to help you erase absolutely everything on your iPhone, iPod or even iPad.  You can even choose the specific data you want to remove and then get it thoroughly disappeared.
Features of iMyFone Umate Pro – iPhone data eraser:
It is a great product as it allows people to erase all their personal data with no doubt. Your iPhone remains completely clean and you have no fear when selling it to a total stranger. This software has helped so many people and has secured so many lives too. Many people have fallen into great trouble and also severe embarrassment after selling their iPhones to strangers as deleted data can be recovered by other alternative ways. But through iMyFone Umate Pro there is no way you could recover even a single letter from the iPhone which has been used before.
Some who also wants to speed up their iPhones may use this software as by cleaning your iPhone, your iPhone would have more space and would no sooner start working really fast like before.
Key features:
Erase all the data permanently on your iOS devices, 100% unrecoverable.
It supports complete phone erase, deleted files erase, private files erase and private fragments erase.
It can delete messages & iMessages, call history, photos, videos, safari history, notes, SMS attachments, memo, WhatsApp/Wechat/Kik messages, email, Facetime iCloud ID, Apple ID, system settings, password, passbook and many others.
Clean your iPhone by deleting junk files, memory hogs, and unwanted cache items to make your iPhone running faster.
How to use it?
It is so easy to use and almost anyone with a very little knowledge of handling a normal technological device would surely have the idea on how to use it conveniently with no hassle. This simple data erasure could be done in simple three steps. Install the software – connect your device to it – – select erase mode and then select permanently erase. This method has been so easy for me, as I have introduced this software to so many people who sell second-hand mobile iPhones as it could help and make their lives easier.
Clean your iPhone to speed  up it
Step 1: Install and open the software, and then connect your iPhone with your computer.
Step 2 : Clean your iPhone to speed up it. Choose the "1-Click Free Up Space" tab, and then click "Quick Scan". The software will scan your iPhone and list how much space you can free up.
Click the "Clean" button on each item to clean up space.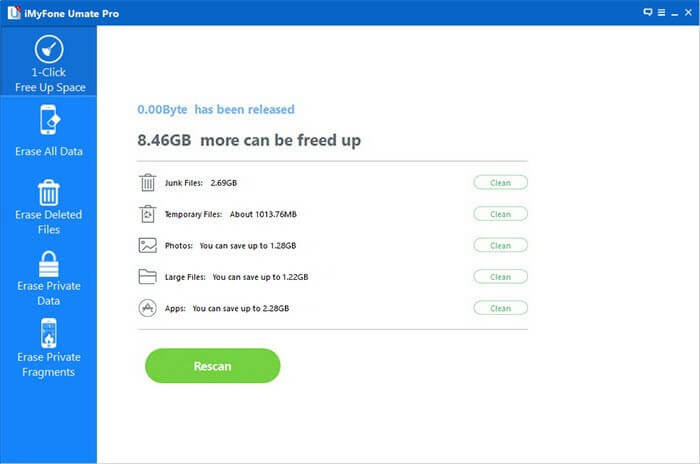 Erase data on your iPhone to protect your privacy
There are 4 modes you can choose. You can select each mode to erase.
Erase All Data: You will get all the files and settings on your iPhone removed. Choose "Erase All Data" and the click "Erase", and then follow the instructions on the software interface, you will get everything on your iPhone removed.
Erase Deleted Files: The software will scan your iPhone and list all files you have deleted, and then you can preview and select to erase those you want.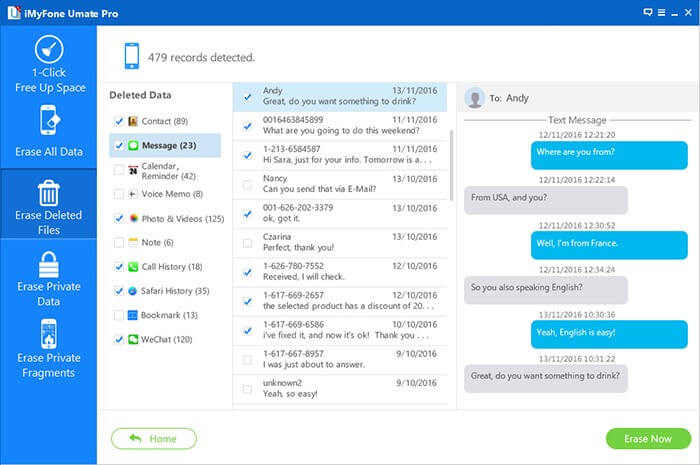 Erase Private Data: The software will scan all the existing and deleted files on your iPhone, and then you can select which one to erase fully.
Erase Private Fragments: Choose the "Erase Private Fragments" tab. You can erase private fragments left in every third-party apps, such as WhatsApp, WeChat, Snapchat, Kik, Line, Instagram, etc. Read more on How to permanently delete iPhone Whatsapp messages.
That's All.