Best Social Sharing Plugins for WordPress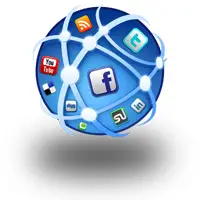 Social Sharing is one of the main concern for person who's writing the blogs or managing the website powered by WordPress. Now the social groups become the best one for referring your site for the traffic. if you think about building the blog or website, you need to have little careful about the social sharing, it does not irritate the public or anybody who's visiting the website. 
Here i am listing some of the best plugin for public user to share your web pages to social sites.
1. Shareaholic (SexyBookmarks | email, bookmark, and share button):
Adds an attractive social bookmarking menu to your posts, pages, index, or any combination of the three.Though the name may be a little "edgy" for some, SexyBookmarks has proven time and time again to be an extremely useful and successful tool in getting your readers to actually submit your articles to numerous social bookmarking sites.
The ShareThis plugin seamlessly enables users to share your content through Email,Facebook,Twitter, Google +1, Like, Send and many more.Increase your audience engagement with our innovative sharing tools!
Used on over 1,000,000 sites, the ShareThis plugin allows users to share your content through email and 50+ social networks including Facebook, Twitter, Digg, StumbleUpon and Reddit.Now with simultaneous sharing to Facebook, Twitter, Email and more: you can broadcast your message more easily and widely than ever before.
Help people share, bookmark, and email your posts & pages using any service, such as Facebook, Twitter, Google, StumbleUpon, Digg and many more.New: Google +1 Button in addition to the Facebook Like Button and Twitter Tweet Button. This sharing plugin comes with AddToAny's customizable Smart Menu, which places the services visitors use at the top of the menu, based on each visitor's browsing and usage history.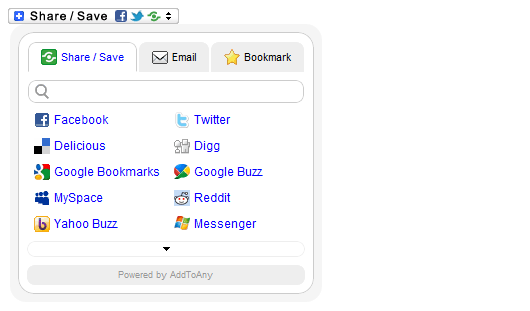 Get more traffic back to your site by installing the AddThis WordPress plugin. With AddThis, your users can promote your content by sharing to 330 of the most popular social networking and bookmarking sites (like Facebook, Twitter, Digg, StumbleUpon and MySpace). We also support address bar sharing in modern browsers. Our button is small, unobtrusive, quick to load and recognized all over the web.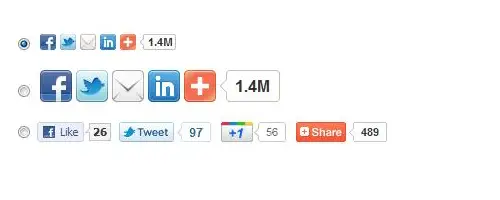 Add facebook, twitter, google +1, google buzz, linkedin, digg, stumbleupon and pinterest pin it social media buttons to your website in either a floating or sliding panel and see summaries of all your social metrics in the admin social statistics page. Sharing button can be set as vertical or Horizontal.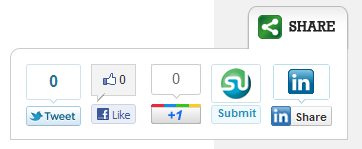 6. Facebook,Twitter,Google plus one Share Buttons:
This simple yet easy-to-use plugin adds facebook,twitter,google +1(plus one) and many other popular social sharing buttons after post contents,such as:Stumbleupon,Linkedin,Digg and Google Buzz.

This plugin adds a set of cool icons and widgets at the end of your post for your readers to share. Widgets are Twitter, Facebook and Google +1. It supports large icons and small icons.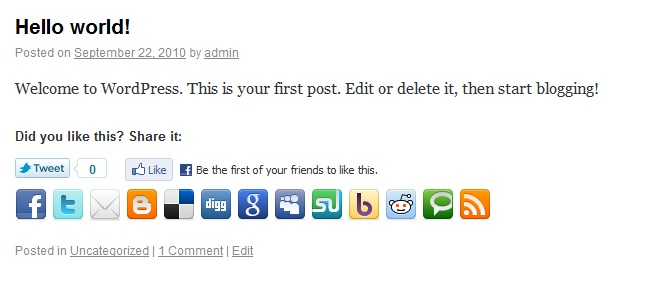 A very simple social share plugin with just 5 social icons (Twitter, FB Like, Google +1, Linkedin and FB Share)

9. Social share – wp plugin:
This wp-plugins shows icons from 16 most known social sites (delicious, digg, facebook, google, linkedin, mixx, myspace, newsvine, reddit, stumbleupon, technorati, twitter ,email,yahoo,blooger,and rss feed) there are 2 different sizes of icons to choose from (16,32)
10. Socialize This:
Socialize This is a WordPress plugin that allows the user to easily generate Social Widgets (Icons) and spread the word about their blog posts. It works out-of-the-box with little to no configuration required.

The InsiteBar is an elegant Website Toolbar that enriches your WordPress site with over 1,000+ social Apps from the InsiteBar marketplace. The InsiteBar is totally free and fully customizable to fit any web site or blog. A few of our popular applications include: Twitter updates, a full facebook application, site translation, youtube videos and more.

Sharebar adds a dynamic and fully customizable vertical box to the left of a blog post that contains links/buttons to popular social networking sites. For wide blogs, a vertical bar with popular sharing icons appears on the left of your post. If the page is resized below 1000px (default), the vertical bar disappears and a horizontal sharebar appears under the post title.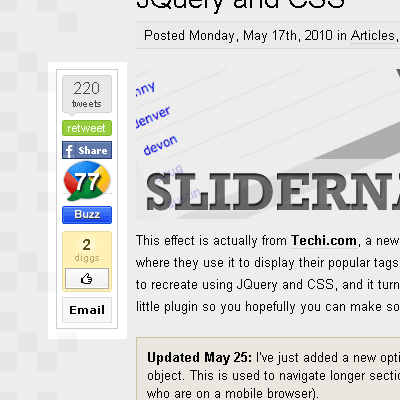 13.ImageShare:
The WordPress ImageShare plug-in adds social bookmarking buttons to images in your blog posts. This way, blog posts can be shared intuitively by hovering the mouse over the images and clicking on the social bookmarking buttons.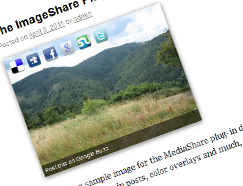 The Gigya Social optimization plug-in aggregates authentication and social APIs from Facebook, Twitter, Google, Microsoft, Yahoo, LinkedIn, AOL and other OAuth & OpenID providers, giving sites the ability to:
Authenticate users via social network and OpenID providers
Increase site traffic by enabling users to easily share content with their friends and followers.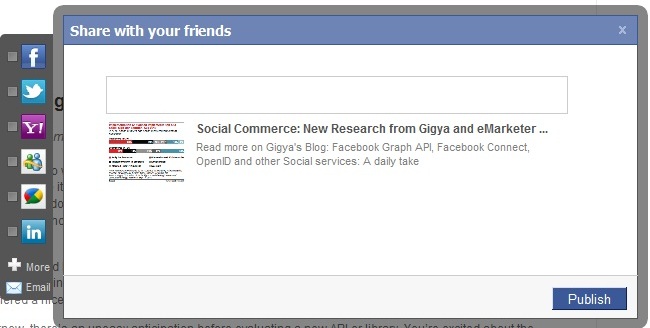 15. Bookmarkify:
The Social Media Marketing Plugin that lets you put social bookmarking links in your posts and other pages. Help your readers promote your blog!
Bookmarkify supports the following features:
Includes over 50 social bookmark sites including an "Email This" link.
Includes a Link for saving to the Browser Favorites.