Writing a post in Indian language – WordPress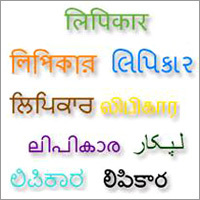 Every body likes to start their own blog using wordpress, because
wordpress comes with lots of feature with themes and plugins.
Sometimes indian bloggers feel the some what difficult in the
language (English) that he is using for post. If they have their
own language option for posting will be very easy, it will help
to make the post with feel of natural.
I have found one language plugin that will help to write post in indian language.
Just Goto WordPress Dashboard —> Plugins  —-> Add New
Then Search for Indian Language.
Then Click on Install Now.
Acticvate the plugin.
Goto Add New in Post Section.
You will find the Drop down menu for choosing the indian language and along with English.
Start the blogging in your language.
Plugin Details:
Using IndicIME plugin, you can very easily write in 9 Indian scripts: Bengali(Assamese, Bengali, Manipuri), Devanagari(Hindi, Marathi, Nepali, Sanskrit), Gujarati, Gurmukhi(Punjabi), Kannada, Malaylam, Oriya, Tamil and Telugu. It does not require any software download for writing in Indian script. Using this plugin, visitor can directly type in Indic script in search box or comment.
Website:
http://www.vishalon.net/