Mozilla Thunderbird 10 Released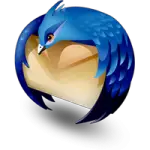 Mozilla Thunderbird is a free,open source,cross-platform e-mail and news client developed by the Mozilla Foundation.Thunderbird can manage multiple e-mail, newsgroup and news feed accounts and supports multiple identities within accounts. Features like quick search, saved search folders ("virtual folders"), advanced message filtering, message grouping, and labels help manage and find messages.Thunderbird supports POP and IMAP. It also supports LDAP address completion. The built-in RSS/Atom reader can also be used as a simple news aggregator. Thunderbird supports the S/MIMEstandard, extensions such as Enigmail and support for the OpenPGP standard.
What's New in Thun

derbi

rd:
The latest version of Thunderbird has the following changes:
New ability to search the Web
Improvements to email search
Several fixes when drafting email
and several other platform fixes
Mozilla provides Thunderbird for Windows, Linux, and Mac OS X in a variety of languages. You can get the latest version of Thunderbird here.