How To Install IntelliJ IDEA on Ubuntu 18.04 / Linux Mint 19
IntelliJ IDEA is an integrated development environment for Java development. Notably, Google uses IntelliJ IDEA as the base for its Android Studio, an open source Android development IDE for developing Android applications. It is developed by JetBrains and is available in two editions, Community and Ultimate.
IntelliJ IDEA supports major build automation tools such as Maven, Ant and Gradle, version controls systems such as Git and SVN. It has a built-in terminal, database tools, code completion, inline debugger. Also, it supports detecting duplicates, connecting Docker containers and application servers such as Tomcat, JBoss, etc.
IntelliJ IDEA core package supports Java, Groovy, Kotlin, and XML/XSL programming languages. The support for other languages such as Python, Perl, Go, Erlang, etc. can be enabled by installing JetBrains plugins.
There are few languages and technologies only supported in Ultimate Edition. Before you install IntelliJ IDEA, compare the Community and Ultimate Edition and decide which one suits your need.
This post guides you on how to install IntelliJ IDEA on Ubuntu 18.04 / Linux Mint 19.
System Requirements
2 GB RAM minimum, 4 GB RAM recommended
1.5 GB disk space + at least 1 GB for caches
1024×768 minimum screen resolution
Install IntelliJ IDEA
We can install IntelliJ IDEA on Ubuntu 18.04 / Linux Mint 19 using snap sudo apt install -y snapd (the easiest way) or download and run the IntelliJ IDEA manually.
Using snap
Run the following command to install the IntelliJ IDEA snap package.
sudo snap install intellij-idea-community --classic
To install the IntelliJ IDEA Ultimate edition, replace intellij-idea-community with intellij-idea-ultimate. The IntelliJ IDEA installation would take some time depending upon the internet connection speed.
Upon successful installation, you will see the following message.
intellij-idea-community 2019.1 from 'jetbrains' installed
You can start IntelliJ IDEA by going to
Ubuntu 18.04: Activities >> Search for IntelliJ IDEA.
Linux Mint 19: Menu >> Programming >> IntelliJ IDEA.

Using official package
Download the latest version of IntelliJ IDEA (v2019.1) from the official website.
OR
In the command line, run the below command to download IntelliJ IDEA v2019.1.
### IntelliJ IDEA with Java SDK v8 ###

wget https://download.jetbrains.com/idea/ideaIC-2019.1.tar.gz

### IntelliJ IDEA with Java SDK v11 ###

wget https://download.jetbrains.com/idea/ideaIC-2019.1-jbr11.tar.gz

### IntelliJ IDEA without Java SDK ###
wget https://download.jetbrains.com/idea/ideaIC-2019.1-no-jbr.tar.gz
If you chose to go for IntelliJ IDEA without Java SDK, you would need to install
Oracle SE
/ OpenJDK
sudo apt install -y default-jdk
separately.
Extract the downloaded package using the tar command.
tar -zxvf ideaIC-*.tar.gz
cd idea-*/bin/
Then, run the idea.sh.
sh idea.sh
Access IntelliJ IDEA
When you open IntelliJ IDEA for the first time, you will get a window like the next asking you to import IntelliJ IDE settings from a previous installation. Click OK to proceed.
Select the confirmation checkbox to accept the privacy and then click on the Continue button.
Also, choose whether you want to send usage statistic to JetBrains.
On the next screen, you can customize the IntelliJ IDEA installation.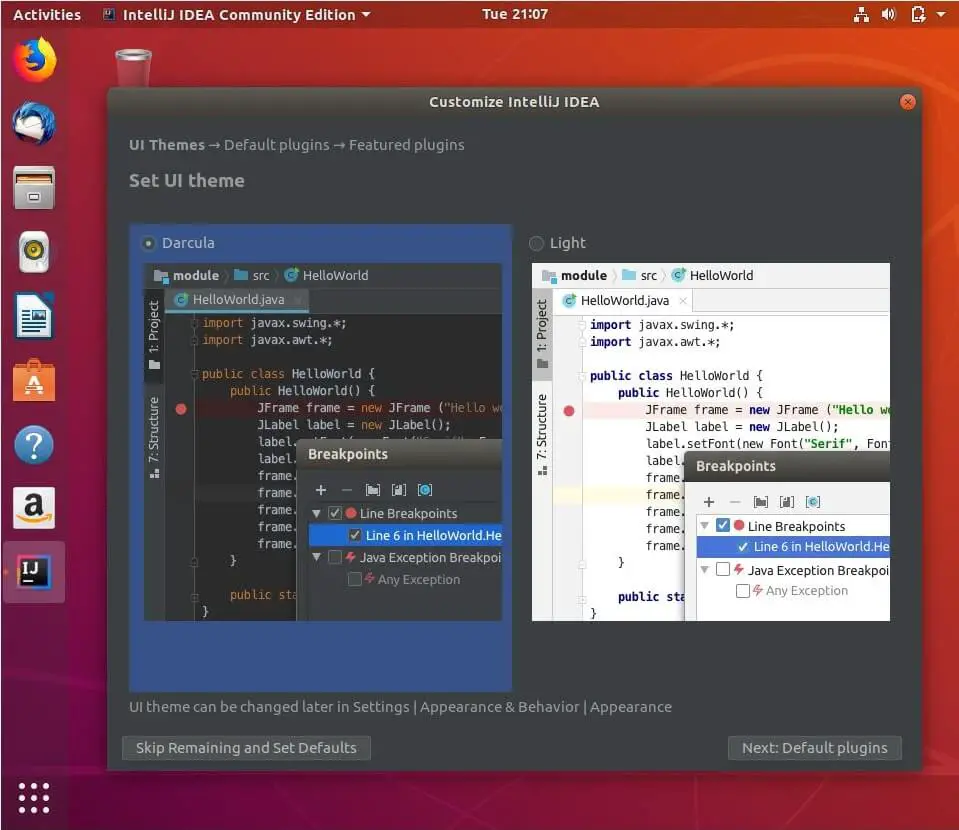 Create Launcher Icon (Official Package)
For those who used official Jetbrain packages, you will be asked to Create desktop entry.
Also, a Launcher script so that you can start IntelliJ IDEA with the command idea from a terminal.
Install addition plugins.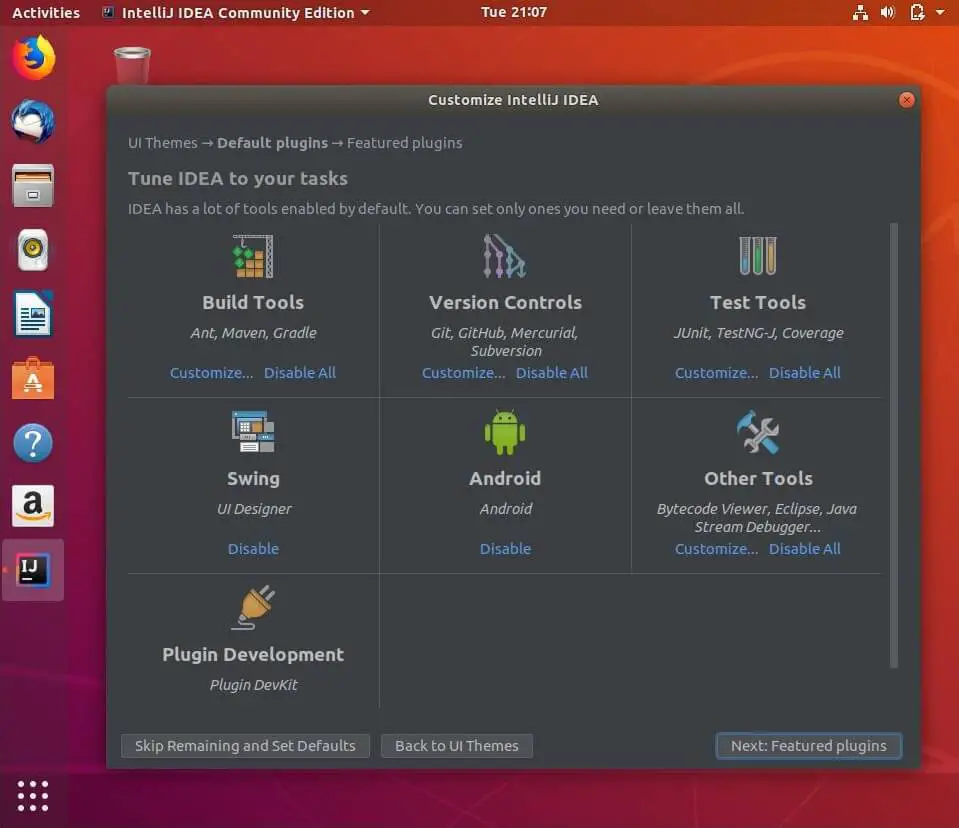 Consider installing IntelliJ IDEA featured plugins. You can skip if you do not want to install them. Click on Start Using IntelliJ IDEA.
Enter your password if IntelliJ IDEA set up asks to complete the installation.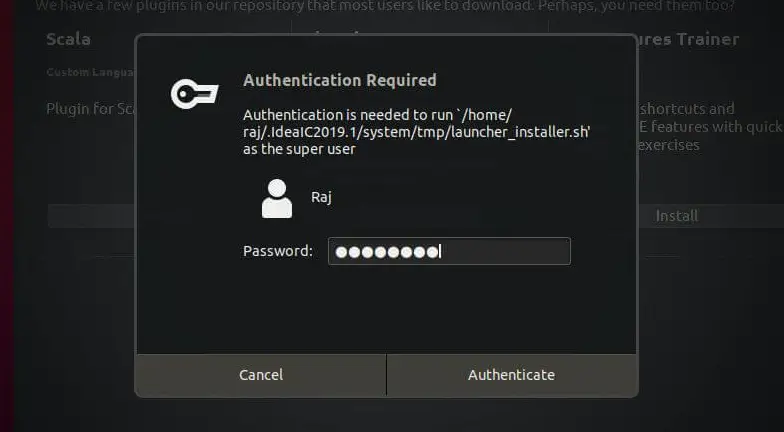 Once you finish the customization, you can create a new Project.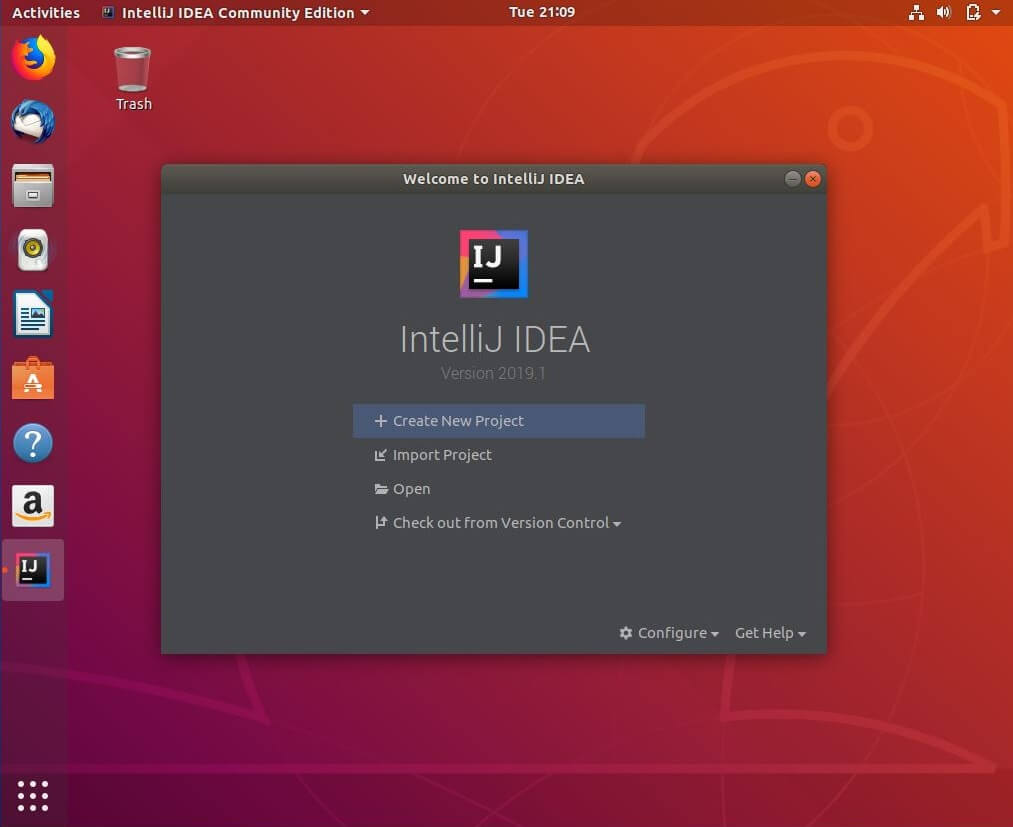 Follow the onscreen instructions to create your first project. The following screenshot shows the Java HelloWorld project.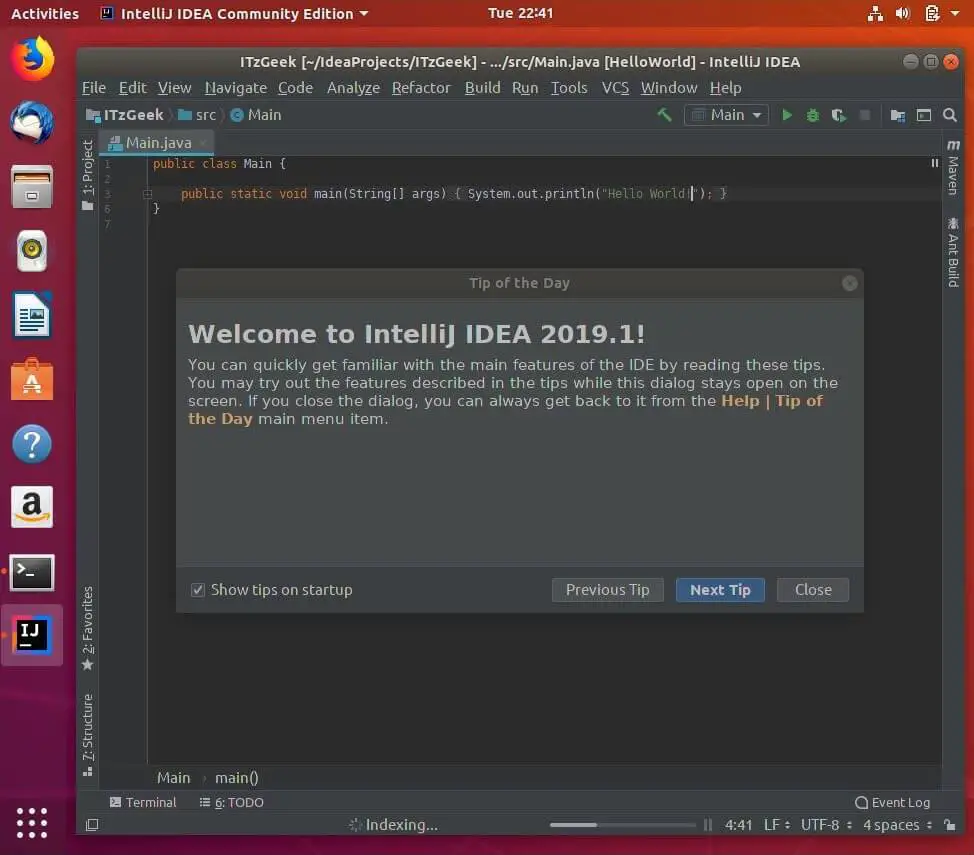 Conclusion
You have seen how to install IntelliJ IDEA on your Ubuntu 18.04. To find more information on how to get started with IntelliJ IDEA, visit the IntelliJ IDEA documentation page.