How to Disable Gadgets in Windows 7 | Enable and Disable Gadgets in Windows 7
This simple tutorial shows how to disable the Windows 7 gadget from the desktop. If you thought that gadgets are unnecessary or don't like to keep on desktop, you can follow this for removing the gadget features from Windows 7.
This will remove the Gadgets option from the desktop context menu.
Step 1: Go to Start  —–>  Control Panel  —–> Programs and Features.
Step 2: Click on Turn Windows Features on or off.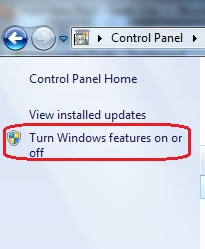 Step 3: Scroll down and find the Windows Gadget platform, Un-Check the Selection  and click on OK.
Step 4: Restart your machine and right click on the desktop. Now you will find that Gadget option should be gone context menu.
And lastly you won't find any gadget lying on your desktop.